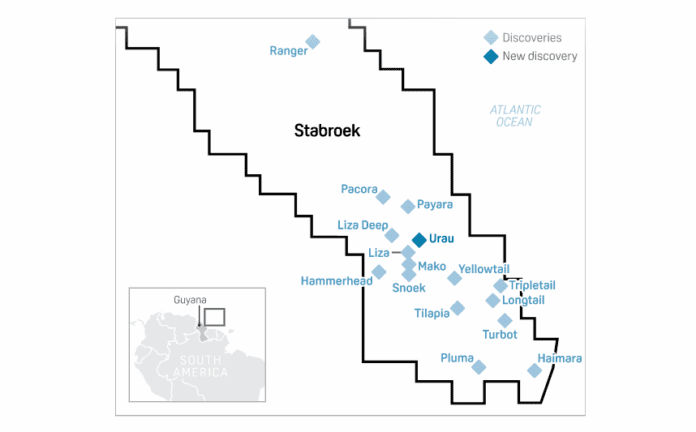 With 16 discoveries made so far at the Stabroek Block offshore Guyana, multiple exploration prospects remain in play that could push the resource estimate even higher than the most recent update released by ExxonMobil in January.
ExxonMobil has raised the amount of its estimated recoverable reserves in Guyana by over 30% to more than 8 billion boe and this excludes its latest discovery at Urau.
The previous resource estimate for the block was more than 6 billion boe after it was raised from 5.5 billion boe last July.
Analysts foresee many more discoveries and further increases to the 8 billion boe figure, S&P Global said in a report.
Credit Suisse analyst Bill Featherston said in an investor note there are "another roughly 25 additional exploration prospects left to test on the block which leave room for further resource upside to the more than 8 billion boe."
The 8 billion boe includes 15 discoveries at Stabroek through year-end 2019, including its 14th find Tripletail and 15th find Mako made in second-half 2019. Uaru is the first find of 2020 and will be added to the resource estimate at a later date, ExxonMobil said.
Uaru, sited in 6,432 feet of water, found about 94 feet of high-quality, oil-bearing sandstone reservoir. It is located around 10 miles northeast of the Liza field, which began producing oil last month.
Oil production began in Guyana last December at the Liza Phase 1 Development. Phase 2 has already been sanctioned for a 2022 start-up and a third development at Payara is awaiting project approval.
ExxonMobil and partners have said they envision at least five FPSOs producing a gross 750,000 b/d of oil by 2025.
"[But] this is very likely to be raised at ExxonMobil's Analyst Day" in early March, Featherston said. "Notably, based on discoveries to date, we see the potential for at least nine phases" even before including the 25 additional exploratory prospects at Stabroek."