ExxonMobil's proposed Uaru development project is now estimated to cost US$12.683 billion (GY$2.638 trillion). This is stated in the Environmental Impact Assessment (EIA) for the project, compiled by Acorn International. The new cost reflects the impact of inflationary pressures on oil and gas projects internationally, as noted by Stabroek Block stakeholder, Hess Corporation, in October.
This cost was provided for the purpose of the environmental authorisation process. ExxonMobil Guyana and its Stabroek Block partners have not yet made a final investment decision (FID); and are continuing to evaluate cost considerations during the development process. The partners usually come to FID after regulators grant environmental authorisation and a production license.  
The project will draw crude from the Uaru, Mako and Snoek fields. The combined recoverable reserve therein is 1.319 billion barrels of oil-equivalent, according to estimates from Rystad Energy.
Uaru will be the largest ever project to date, offshore Guyana, by cost and volume of resources to be produced.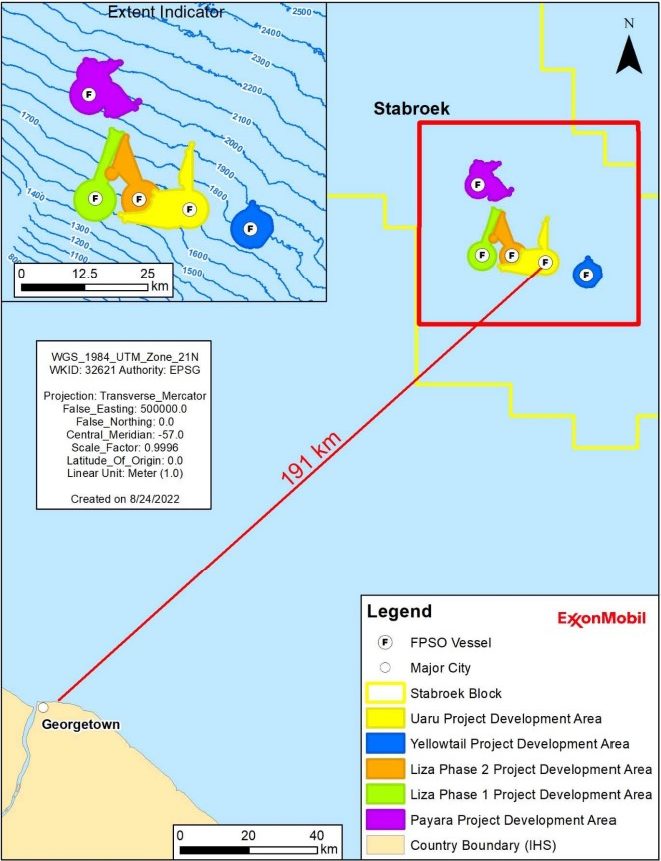 The project scope includes drilling approximately 38-63 development wells, installation and operation of subsea umbilicals, risers, and flowlines (SURF) equipment; installation and operation of a floating production, storage, and offloading (FPSO) vessel; and ultimately, project decommissioning.
Oil production rate is set at 250,000 barrels per day (bpd). However, the FPSO basic design has an upper oil production limit of 263,000 bpd. The partners are open to revising the peak production rate upward if the opportunity presents itself in the detailed design stage. For the EIA, Acorn said it assessed the potential impacts of production up to 300,000 bpd.
The FPSO will have storage capacity of two million barrels of stabilised crude; and will be able to offload approximately one million barrels onto a tanker in a period of approximately 24 hours.
The proposed FPSO vessel will be a new-built facility with double-hull protection. This FPSO will differ from the earlier four ordered by ExxonMobil from SBM Offshore for the Stabroek Block projects, as it will be delivered by MODEC. It will be built into MODEC's M350TM hull. MODEC has been gunning for contracts to deliver challenging largescale FPSOs, even entering a recent joint venture with Toyo Engineering Corporation to improve its bargaining position.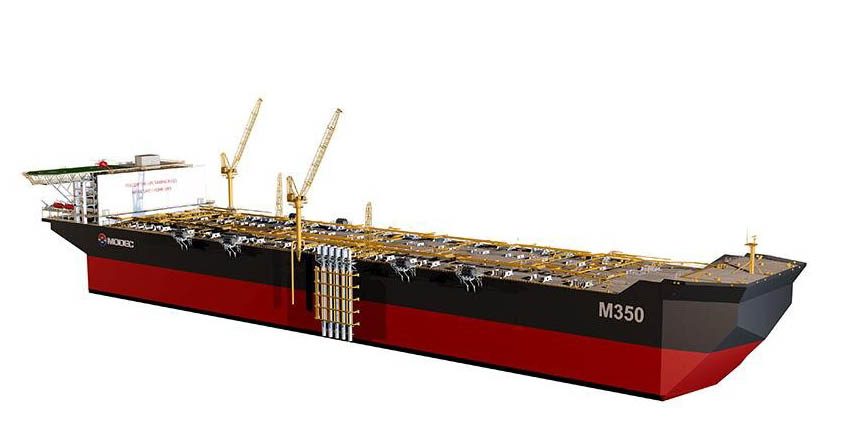 The project is expected to produce crude for at least 20 years, starting late 2026/early 2027.
While Guyana's Environmental Protection Agency (EPA) reviews the EIA, the Ministry of Natural Resources is evaluating bids for an expert consultant to review the field development plan (FDP).
ExxonMobil has a 45% operating stake in the project. Hess has 30%, and CNOOC has 25%.
The Yellowtail production, expected in 2025, will take production offshore Guyana to 830,000 bpd, likely to make the country the world's largest per capita producer of oil.
Uaru, as the fifth Stabroek Block development, is expected to lift production offshore Guyana to 1.08 million bpd. The partners have consistently reinforced their plan to have six FPSOs offshore Guyana by 2027, with production capacity of 1.2 million bpd. Chief Executive Officer of Hess Corporation, John Hess, said in January that the Fangtooth discovery of 2022 is being targeted for the seventh development. There is potential for at least 10 FPSOs in the Stabroek Block.