Guyana and Azerbaijan are looking to build stronger relations and it is hoped that this partnership would allow for mutually beneficial outcomes, and support for the effective management of Guyana's oil and gas sector.
Last week, the Ambassador of the Republic of Azerbaijan to Guyana, Elkhan Polukhov, presented his letters of credence to Guyana's President, David Granger.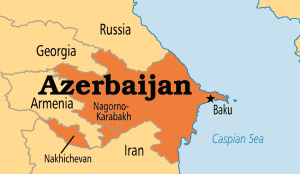 Azerbaijan, its capital Baku and, more generally, the Abseron Peninsula have long been known for oil and gas. At the beginning of the 20th century, approximately half of the world's total oil output was sourced from that region.
In an interview on Thursday last, the Ambassador said it is for this reason that it has strong focus on the academic abilities of the country, especially in the area of oil and gas.
To this end, he pointed to the two oil and gas state academies – Azerbaijan State Oil and Industrial University and Baku Oil Academy, which has been instrumental in creating a wealth of knowledge in this highly competitive industry.
He is, therefore, encouraging Guyanese to take advantage of training opportunities in Azerbaijan.
The Ambassador said, "We understand your concerns and your needs. It is a small nation and it is an area where definitely we can help and support each other."
He said due to his country's vast experience in this area, it has always been ready and willing to support such ventures in other countries around the world.
"It definitely needs wise management and correct approach. My country is well known in the world with its expertise and knowledge in this area. Whatever is connected to the oil started in Azerbaijan so Azerbaijan probably has a feeling of oil," he stated.
Since the mid 1990's the oil and gas sector has been the engine driving Azerbaijan's economy.  Through a series of production sharing agreements (PSAs), Azerbaijan succeeded in attracting significant foreign direct investment from international energy companies.
Low world oil prices in recent years have strongly affected Azerbaijan's economy and export receipts, but oil and gas still represents the largest share of its economy and contributions to the state budget.