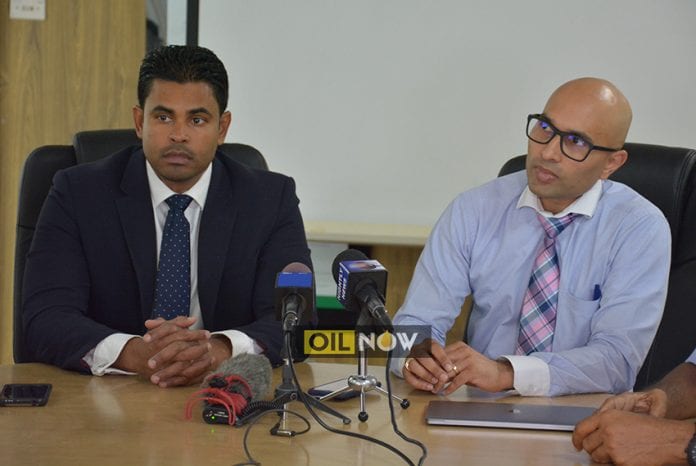 Business representatives who recently returned to Guyana after a successful foray at the Offshore Technology conference in Houston, Texas, are expressing frustration and deep concern with the absence of a functional local content policy framework, as the country moves closer to becoming a key oil producer in the region.
Speaking at a press conference on Wednesday, members of the Georgetown Chamber of Commerce and Industry (GCCI) said Guyanese businesses remain at a significant disadvantage without the implementation of a framework to determine how local content is dealt with.
GCCI President, Nicholas Boyer, said the private sector has demonstrated its preparedness to invest, learn and inculcate new behaviours that would enable it to compete for opportunities in Guyana's emerging oil and gas sector. "What we need is that regulatory environment that starts with a policy and ends with legislation that says there is a need for local content in this industry."
Boyer pointed out that there are numerous examples around the world that point to both successes and failures of how local content can be handled, and in the case of Guyana; "We need to learn quickly and implement that policy and implement that legislation."
An openly frustrated Boyer said much attention has been placed on the consultants that authorities in Guyana have hired to work on local content development, but very little emphasis is placed on exactly when a policy will be completed and implemented.
"We keep arguing about who the consultant is, but nobody answered what date was the final policy going to be delivered and implemented. Did anybody see that in the media? I didn't see it," he stated.
Not all talk and no action
Charles Ramson Jr., Chair of GCCI's Petroleum Committee, pointed out that in addition to advocating for a framework to be put in place, the Chamber itself took steps to develop a draft document which it shared with government last year in the hope that aspects of it are taken onboard to help expedite the process of arriving at a final document.
"We submitted this to the Ministry of Business just to say 'look, we're not only saying we would like to have this demand, but we are going to be supportive. We're going to be able to say this is what it would look like and it's not very onerous'. Local content is important for Guyana because it's about work; it's about an opportunity for work," he pointed out.
Ramson Jr. said work is not only about pay; "work is about dignity and pride and self-respect and having a purpose. And if we don't meaningfully engage where work is concerned, then we're going to be just selling Guyana short."
RELATED:
Guyanese business group calls for swift implementation of local content framework
Local content framework in Guyana to be in place "long before first oil"