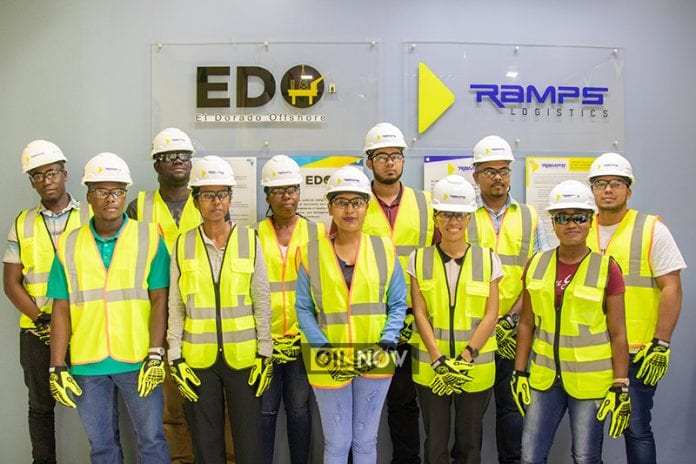 12 Guyanese will begin their careers in the oil and gas sector on June 3. The batch will receive training as Rig Clerks and will be stationed on the Noble Bob Douglas drillship on completion. Among the batch are six females, who will be the first women deployed by Eldorado Offshore to an offshore location.
Speaking to OilNOW, Manpower and Recruitment Director, Natasha Jairam-Abai said the organization is proud to have the women be a part of their third batch of Rig Clerks being trained.
"We don't have much Rig Clerks that are females in the oil and gas industry, so we are proud of that," said Jairam-Abai.
The trainees will spend ten weeks beginning at the Guyana Shore Base Inc followed by a stint at the Eldorado Offshore office in Trinidad. Their training will wrap up on the Noble Bob Douglas drillship, which is currently located offshore Guyana. The Guyanese will receive technical and theoretical training and join a growing list of their fellow countrymen that have entered the new sector.
Jairam-Abai said that the sector needs technical persons, she encouraged potential applicants to secure a diploma with the technical institutes or the University of Guyana. She added that internal sector specific-training is provided but having a technical diploma or experience is valuable.
Noting that half of the current batch are females, Jairam-Abai said women should not shy away from sending in applications. She encouraged, "Women apply, if you don't apply you would be able to be a part of the industry."
Anna Layne, one of the new recruits, said that she is proud to be a part of the batch. Though she did not apply directly for the job within the organization but was given an opportunity so she took it.
Another recruit, Parbatee Ramotar, said she is excited to explore the opportunities in the new sector. She encourages Guyanese considering a career in the sector, to pursue higher education at the University of Guyana. This she believes will give them an edge.
Meysol Headley, who was formerly employed as a network technician, was hired during a recruitment drive in the mining town of Linden, located in Region 10. Headley believes his experience will be an asset to him in his new career path.