President of the Georgetown Chamber of Commerce and Industry (GCCI), Timothy Tucker, said the body's annual Business Development Forum 2022 is on for November 11-12 at the Pegasus Corporate Centre, Kingston, Georgetown.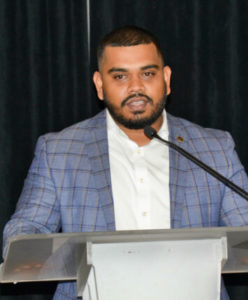 Known for its lobbying and advocacy on the part of local firms, the Chamber has outlined an agenda for the forum that strikes at the heart of issues that plague the private sector. In this regard, Executive Director Richard Rambarran said the five thematic areas are access to finance, opportunities for businesses, improving standards and quality, doing business in Guyana, and marketing fundamentals.
Rambarran said this agenda was crafted based on the empirical research of the Chamber, through quarterly surveys undertaken with its membership of over 700 businesses.
With more than 200 businesses already registered to participate, the Business Development Forum 2022 is intended to be informational, bridging knowledge and capacity gaps to prepare the internal dynamics of businesses for the internalisation of Guyana's economy. Tucker said the event is not limited to Chamber members, but businesses across Guyana.
"The world is upon us and as a country, as a business community, we have to grow our businesses and realise that we're operating on an international level, and we need to bring our businesses up to standard," Tucker said.
Each of the listed themes will have its own keynote address, Rambarran outlined, followed by three presentations, then a panel discussion which will allow for audience participation.
He said there will be an exhibition, "essentially… by enterprises, institutions and agencies that are pertinent to business development."
For example, if one wishes to understand how to obtain a micro-loan, they would be able to learn from the commercial banks. Or if they wish to improve employee engagement and properly manage the workforce, they could learn from an entity such as ActionCOACH.
Chamber taps gov't for easier access to financing, strengthening local content law | OilNOW
Several key government stakeholders have been invited for involvement, including Senior Minister in the Officer of the President with responsibility for Finance, Dr. Ashni Singh; Minister of Tourism, Industry and Commerce, Oneidge Walrond; and the Guyana National Bureau of Standards.
Membership Officer at GCCI, Ambika Ramraj, said the group's National Small Business Week, typically geared for the development of small businesses, will be incorporated into this forum. She said it will be a phenomenal opportunity for exposure for small businesses to the event, in which the Chamber expects 500 delegates to be involved and as many as 1,000 visitors.
ExxonMobil Guyana is the main event partner, providing both event and cocktail sponsorship.
The Business Development Forum was first launched in 2018 to be, not just another oil and gas seminar, but an endeavour to improve all aspects of business operations and development across oil and non-oil sectors.