Guyanese could go the polls by March 2, 2020 to elect a new government. This was announced by the country's President, David Granger, in an address to the nation on Wednesday evening.
The President said after speaking with the country's electoral body and conferring with his Cabinet, March 2, 2020, is the earliest possible date by which an election could be held.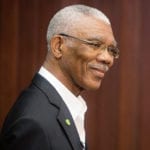 "I am pleased to announce that, after discussions with Chairman of the Elections Commission and with my Cabinet, the earliest possible date for the holding of General and Regional Elections will be on Monday, 2nd March 2020," Mr. Granger said in his announcement.
March 2, 2020 would mark more than a year since a vote of no confidence was passed against Mr. Granger's APNU+AFC coalition government.
The country's Constitution states that on the passage of such a vote, an election should be held within three months unless extended by a two-thirds majority of the National Assembly. A legal challenge by the government on the validity of the vote, which was passed on December 21, 2018, saw a final decision being made by Guyana's highest court on June 18, 2019, which upheld the vote. This decision came some six months after the no-confidence motion was passed.
Prior to Mr. Granger's announcement on Wednesday, the country's Parliament had not extended the timeframe for elections.
Alluding to this, the President said in his address that the government "must, as a consequence," return to the National Assembly to request an extension. The National Assembly, he stated, reconvenes on October 10, 2019.
However, the opposition has said it will not return to Parliament to vote in favour of the extended timeline for elections. It also noted that Mr. Granger's announcement did not amount to a proclamation of an election date, but merely outlined the "earliest possible date."
U.S. and European diplomats had declared Guyana's government in breach of the country's constitution on September 19 and called on Mr. Granger to "set an elections date immediately" or possibly face a cut-off of development funding.
"A return to the National Assembly is wholly unnecessary for him to discharge his constitutional duty to proclaim a date for Elections and dissolve Parliament, nor is it linked to a requirement for GECOM to be ready for Elections," the opposition said in a statement, with reference to Mr. Granger's announcement.
Since the no-confidence motion was passed in December, the country has been in a state of uncertainty. Key initiatives which should have been pursued by Parliament, such as the establishment of a Petroleum Commission, have been placed on the backburner. The operationalization of the Natural Resources Fund has also been hindered.
With first oil just months away, and with it, the flow of revenue from production, this does not bode well for the South American country which has been plagued with a long history of corruption and lack of transparency.