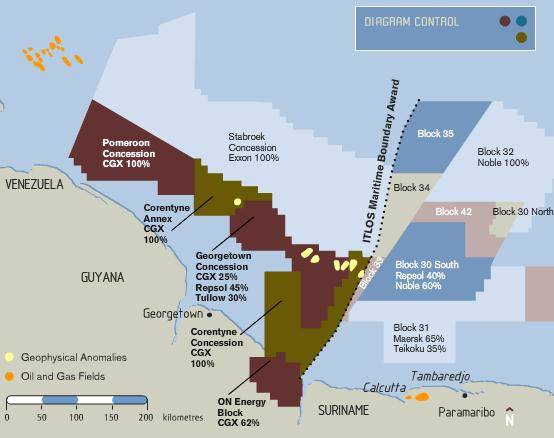 The Production Sharing Agreement (PSA) between the Government of Guyana and ON Energy, signed on February 12, 2013, outlines a 53% share of profit oil for the South American country and 1% royalty, payable by the company. Recoverable contract cost is pegged at 75% of total production.
The PSA was published on Guyana's Ministry of Natural Resources website on Saturday and follows the public disclosure of several other petroleum agreements in recent months including that of ExxonMobil, which was the first to be released in December 2017.
Under Article 11, which outlines Cost Recovery and Production Sharing, states that crude or natural gas produced shall be shared between the Government and the company for each field on a 53%/47% basis.
ON Energy is a wholly owned subsidiary of CGX Resources Inc. with working interest in the onshore Berbice Block which is located south of the Corentyne concession.