Equinor is operating the world's first wind farm designed specifically to power offshore oil and gas platforms. Known as Hywind Tampen, this innovative project has revolutionized the industry by combining offshore wind power with traditional oil and gas operations.
Located approximately 140 km off the Norwegian coast, Hywind Tampen is situated at a water depth between 260 and 300 meters. The wind turbines are installed on floating concrete structures with a shared anchoring system, providing stability and adaptability to the challenging offshore environment. The turbines are connected through a 2.5 km-long inter-array network with a capacity of 66 kV, ensuring efficient and reliable transmission of electricity.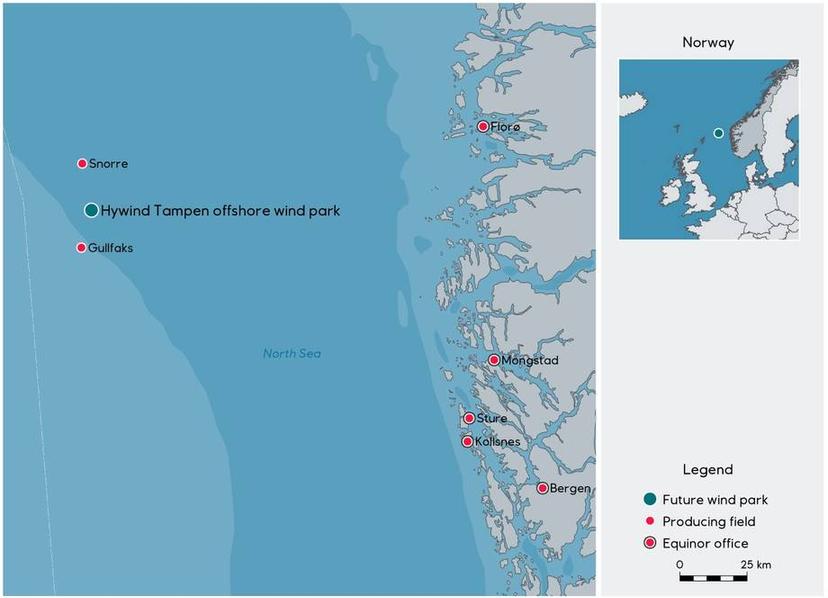 With a capacity of 88 MW, Hywind Tampen is the world's largest floating offshore wind farm but also an important milestone in the development of offshore wind power projects. By utilizing this technology, Equinor aims to industrialize solutions and reduce costs for future offshore wind ventures.
Equinor opens Njord field after NOK 31 billion in upgrades | OilNOW
With this project, Equinor operates nearly half (47%) of the world's floating wind capacity. Hywind Tampen serves as a test bed for the advancement of floating wind technology, exploring the use of larger turbines, improved installation methods, simplified moorings, concrete substructures, and the integration of gas and wind power generation systems. By pushing the boundaries of innovation, Equinor aims to unlock the full potential of floating wind energy and further enhance its viability.
The wind farm consists of 11 wind turbines, upgraded from 8 to 8.6 MW. Although the capacity of the export system and the platforms has not been upgraded accordingly, the increased capacity of the turbines can contribute to enhanced yearly total production by increasing uptime. Moreover, Equinor expects the facilities to lead to improved production capacity through increased utilisation rates.
MODEC to supply fully electrified FPSO to Brazil for Equinor's Campos basin cluster | OilNOW
Hywind Tampen meets approximately 35% of the annual electricity power demand for the Snorre A and B, and Gullfaks A, B, and C platforms. This percentage is expected to be significantly higher during periods of stronger wind speeds, demonstrating the project's potential for substantial energy generation.
The integration of wind power is expected to significantly reduce the reliance on gas turbine power for the Snorre and Gullfaks offshore fields. Furthermore, Hywind Tampen contributes to substantial environmental benefits by offsetting approximately 200,000 tonnes of CO2 emissions and 1,000 tonnes of NOx emissions per year.
The Hywind Tampen partners include Petoro, OMV, Vår Energi, Wintershall Dea, and INPEX Idemitsu Norge AS, who with Equinor collectively reached a final investment decision in October 2019. Key contracts for the project, amounting to NOK 5 billion, were awarded in the same month.
It started operations in November 2022.