Production Manager for ExxonMobil Guyana, Mike Ryan, said there is potential to tie new discoveries at the Stabroek Block into existing offshore projects.
The use of this engineering process, called subsea tieback, is a move that saves companies a fraction of the development costs for a project that typically involves purchasing a new floating production, storage, and offloading (FPSO) vessel.
Ryan said ExxonMobil is always looking for opportunities that help to best develop a resource.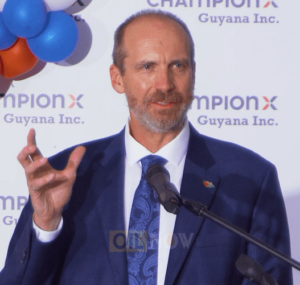 "We've made a number of discoveries. We've got four projects fully in the works. We're working on additional projects," he said. "So, how to maximise the value of those to the government and our shareholders – that's what we're after."
ExxonMobil Corporation's Chief Executive Officer, Darren Woods had said that the company is looking at ways to make future developments more "cost effective."
He said this would be done by targeting larger developments and extending current developments.
Presently, the Liza Phases 1 and 2 projects do not have tiebacks. However, the Payara and Yellowtail projects do. The Government approved a tieback of the Pacora discovery into the Payara project and the Redtail discovery into Yellowtail. These projects will come onstream in 2023 and 2025 respectively.
The Uaru development project, currently in the application stage, is expected to utilise a subsea tieback to tap the Mako discovery.
Rystad Energy's industry benchmarking update on Guyana, which it released in July, modeled assumptions that most of the commercial discoveries made in the Stabroek Block will be tapped as tiebacks. The energy intelligence firm determined that the larger discoveries, sufficient to warrant their own FPSOs, would be Tripletail, Longtail, Snoek, Hammerhead, Ranger and Pluma.
Rystad Energy's assessment was done prior to the announcement of the Seabob and Kiru-Kiru discoveries.