ExxonMobil has submitted the Environmental Impact Assessment (EIA) and Environmental Impact Statement (EIS) to Guyana's Environmental Protection Agency (EPA) for the giant 250,000 barrels per day Yellowtail Development Project which is expected to last for at least 20 years.
The purpose of the EIA is to provide the factual and technical basis required by the EPA to make an informed decision on ExxonMobil Guyana's Application for Environmental Authorisation. The company said in documents submitted to the EPA that it conducted a robust public consultation program to both inform the public about the project and to understand community and stakeholder concerns so this feedback could be incorporated and addressed in the EIA, as applicable.
Exxon holds public consultations for Yellowtail, 2022 targeted for FID
The project will consist of the drilling of approximately 41 to 67 development wells (including production, water injection, and gas re-injection wells); installation and operation of Subsea, Umbilicals, Risers, and Flowlines equipment; installation and operation of a Floating Production, Storage, and Offloading (FPSO) vessel in the eastern half of the Stabroek Block; and— ultimately—project decommissioning. Onshore logistical support facilities and marine/aviation services will be used to support each stage of the project.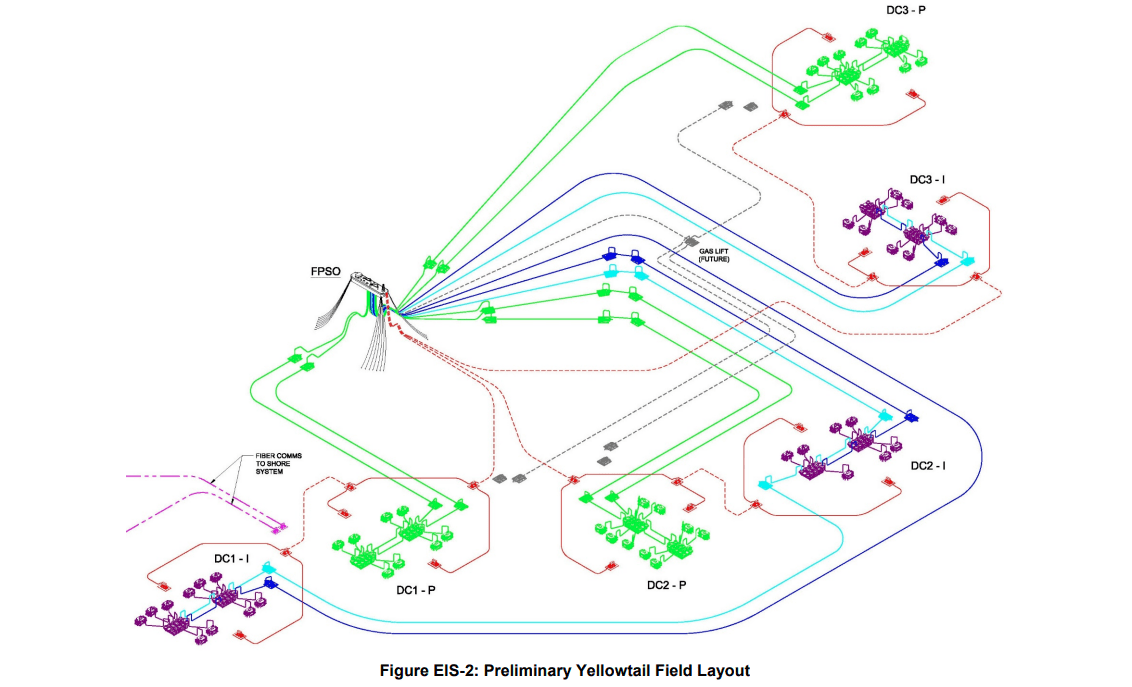 ExxonMobil said it will use proven and good international oilfield practices and has incorporated many embedded controls into the overall project design to reduce environmental and socioeconomic impacts.
It could take several years to drill the wells, currently scheduled from mid-2023 through 2028 (although drilling could begin as early as 2022).
The initial production is expected to begin by end of 2025–early 2026, with operations continuing for at least 20 years. The project is expected to employ up to 540 persons during development well drilling, approximately 600 persons at the peak of the installation stage, and 100 to 140 persons during production operations.
Yellowtail will develop largest resource base to date, Pinktail and Whiptail could be 6th project
According to the EIA, the planned activities of the project are predicted to have negligible residual impacts on most physical resources (air quality, marine geology and sediments, and marine water quality)—with potential moderate residual impacts on greenhouse gas (GHG) emissions, no impacts on coastal biological resources, negligible to minor residual impacts on most marine biological resources (with potential moderate residual impacts on special status marine fish), and negligible to minor residual impacts on socioeconomic resources—with largely positive impacts on socioeconomic conditions and employment. These predictions are based on the fact that the bulk of the project activity will occur approximately 203 kilometers (approximately 126 miles) offshore, and the Project will capture and re-inject associated natural gas (that which is not used as fuel on the FPSO) back into the targeted Project reservoirs, treat all required wastewater streams prior to discharge to the sea, have a very small physical footprint (e.g., infrastructure construction disturbs only about 0.7 square kilometers [0.3 square miles] of benthic habitat), and use Marine Mammal Observers and "soft starts" during seismic surveys to reduce the potential for auditory injury to marine mammals.
The EIA states that unplanned events, such as a potential oil spill, are considered unlikely to occur because of the extensive preventative measures employed by ExxonMobil. Nevertheless, the company has conducted oil spill modeling to evaluate the range of likely spill trajectories and rates of travel in the unlikely event of a spill.
The exact locations of the Yellowtail development wells have not yet been finalized; however, the wells will be drilled from six drill centers. During drilling and installation of the FPSO/SURF facilities, work may be performed in a subsea area within the PDA that could potentially cover an estimated 3,534 hectares (8,733 acres).
Natural gas will be produced in association with the produced oil. ExxonMobil said it will use some of the recovered gas as fuel on the FPSO and proposes to re-inject the remaining gas back into the reservoir, which will assist in optimizing management of the reservoir. Alternative uses of gas for future phases are being studied and any such uses would be addressed in a separate environmental authorization.
The Yellowtail development, Guyana's fourth deepwater petroleum production project, is targeting 250,000 barrels of oil per day, the largest volumes yet for a single development offshore the South American country.