The Yellowtail development, Guyana's fourth deepwater petroleum production project, is targeting 250,000 barrels of oil per day, the largest volumes yet for a single development offshore the South American country.
According to documents submitted to the Environmental Protection Agency by ExxonMobil affiliate Esso Exploration and Production Guyana Ltd. (EEPGL), the project will develop the Yellowtail and Redtail Fields, and potentially additional resources if determined to be feasible and competitive.
"Yellowtail will be designed to add up to 39,747 m3 (250,000 barrels) of oil a day to existing daily production volumes in Guyana with the associated additional revenues to the Government of Guyana while continuing a steady expansion of opportunities for Guyanese to participate in the petroleum industry," ExxonMobil stated in the Project Summary.
Yellowtail's 250,000 bpd will add to the 120,000 bpd from Liza Phase 1, 220,000 bpd from Phase 2 of the Liza Development and 220,000 bpd from Payara, ramping up total production to more than 800,000 bpd.
Like the other Stabroek Projects, Yellowtail will involve drilling of production wells; installation, commissioning and operations of Subsurface Umblicals, Risers and Flowlines (SURF); a Floating Production and Storage Offloading vessel (FPSO) and handling and offloading of produced hydrocarbons. The FPSO will have a storage capacity of 2 million barrels of oil.
In its application to the EPA, ExxonMobil said it is "committed to conducting business in a manner that is compatible with the environmental and economic needs of the communities in which it operates and that protects the safety, security, and health of its employees, those involved with its operations, its customers, and the public."
Building on the previous Stabroek Projects, Yellowtail will be designed to demonstrate continuous improvement in environmental performance, the Project Summary states.
ExxonMobil has been heavily criticized for an ongoing issue with the gas compressor system on the Liza Destiny FPSO which has seen production dip and flaring executed above pilot levels for extended periods during 2020, with challenges continuing this year.
The company said it has conducted comprehensive root cause analyses of these issues, and evaluated potential improvements to gas handling systems, sparing philosophy, and execution procedures.
"EEPGL plans to take significant steps to incorporate the lessons learned from the commissioning of the Liza Destiny into future projects, including Yellowtail," the company said in the Project Summary, adding that it will continue to apply the learnings of Liza Phase 1. In This regard, ExxonMobil said it has undertaken additional studies to obtain an even more comprehensive understanding of potential impacts of effluent discharges to water; the feasibility of alternative handling of produced water; and cradle to grave waste management in Guyana, including the application of certain international standards and best practices.
"Additional studies are ongoing or planned with regard to flare minimization, emergency response, and environmental compliance monitoring and verification. The learnings from these and other environmental studies will inform the design and implementation of the Yellowtail Project, increasing environmental performance and economic value," the company said.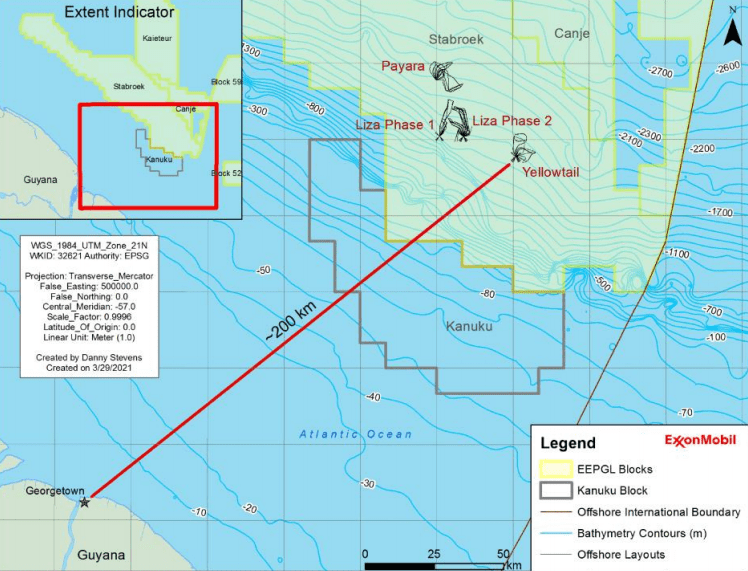 Yellowtail will be located in the eastern portion of the Stabroek Block, approximately 200 km from Georgetown and southeast of the Stabroek Projects. Production is expected to begin by Q4 2025 with an expected field life of at least twenty years.