ExxonMobil's fifth proposed development offshore Guyana could produce as much as 275,000 barrels of oil per day (bpd) and could achieve first oil as early as the fourth quarter of 2026, according to the project summary seen by OilNOW.
Guyana's Environmental Protection Agency (EPA) said this week that an environmental impact assessment (EIA) is needed to determine the likely impacts of the Uaru Development Project.
At a production capacity of 275,000 bpd, Uaru would take accumulated oil production capacity in the Stabroek Block over 1.1 million bpd after it is safely commissioned and ramps up to nameplate capacity.
The project summary states that the Uaru project will be in the eastern portion of the Stabroek Block, approximately 200km from Port Georgetown, and will produce hydrocarbons from the Uaru and Mako finds, and potentially additional resources, if determined to be feasible and economically viable.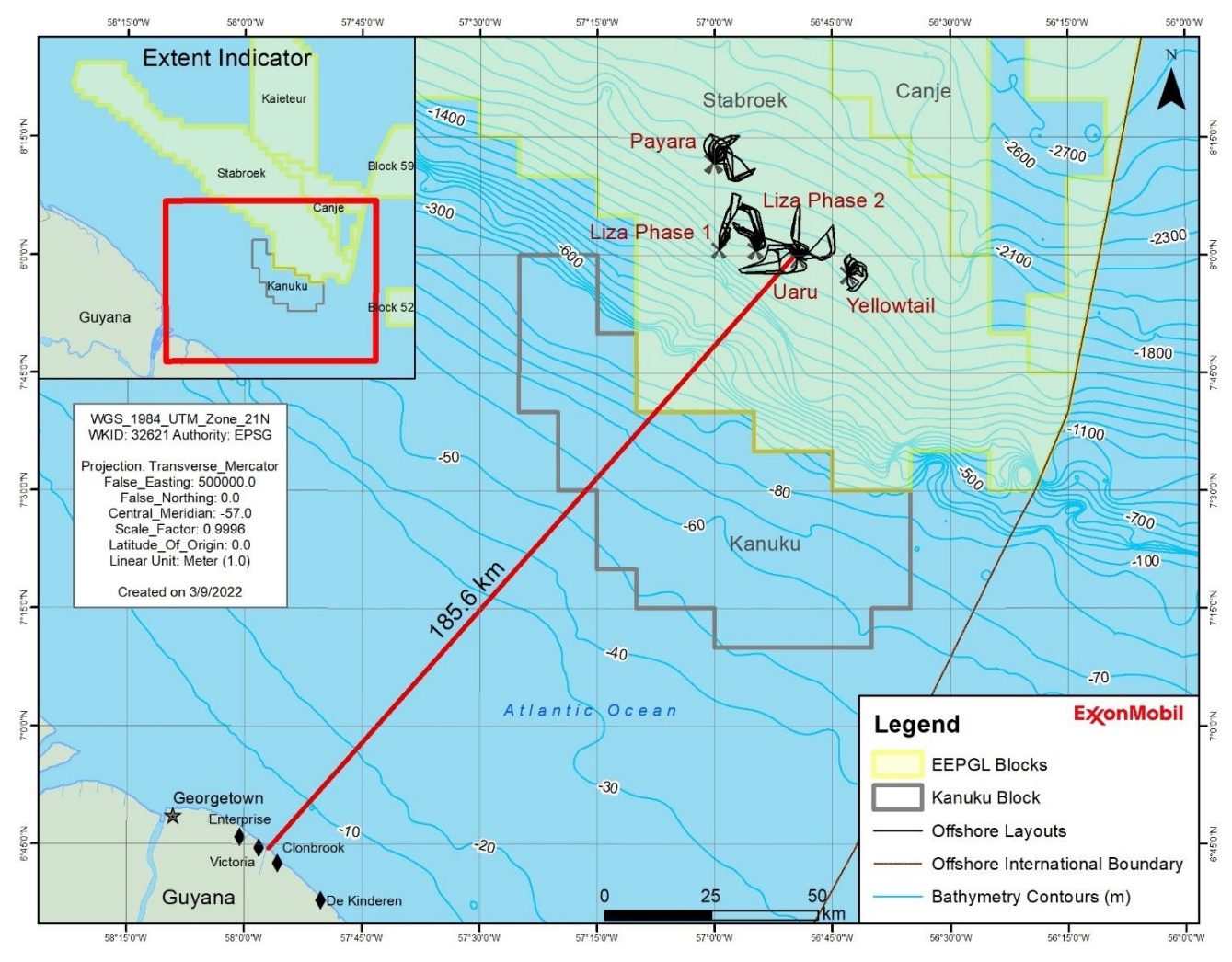 This development will utilise a floating production, storage and offloading (FPSO) vessel with anticipated oil production capacity between 220,000 and 275,000 bpd, gas production of 450-540 million standard cubic feet per day (mmscfpd) and produced water capacity of 250,000-290,000 bpd. The summary noted that produced water will be treated to international standards before it is safely discharged into the ocean.
The FPSO is designed to have oil storage capacity of 2 million barrels, and will, at peak production, allow tankers to offload crude every four days.
The vessel will have double hull protection, with approximate dimensions of 354m in length, 64m in width and 33m in depth.
Current plans include drill ships to produce oil from approximately 40-76 wells. Production facilities include subsea equipment attached to the seafloor, which will be installed at approximately 1,450-1,950 metres of water depth. These are the production tree, production manifold, risers, and umbilicals.
Marine vessels and helicopters are expected to support to development throughout all stages of the project, moving between the offshore development and shorebases, pipe yards, fabrication facilities, fuel supply facilities, and waste management facilities.
Production is expected to begin between the fourth quarter of 2026 and the second quarter of 2027, with an expected field life of at least twenty years.
ExxonMobil said the Uaru Project will be designed to demonstrate continuous improvement in environmental performance.
It said that Esso Exploration and Production Guyana Limited (EEPGL), its affiliate, strives to make improvements in environmental performance through emissions controls, technology enhancements and process improvements, incorporating lessons learned from the commissioning and operation of previous Stabroek Block Projects.
"The Uaru Project will contribute positively, directly and indirectly, to economic growth in Guyana, including increased national revenues, local procurement of selected goods and services, increased direct and indirectly local employment opportunities which drive associated beneficial "multiplier" impacts throughout the local economy," ExxonMobil said.
Presently, the Liza Phases One and Two projects operate offshore Guyana with total oil production capacity of 360,000 bpd. Payara and Yellowtail have received government approvals, and are expected to achieve first oil in 2023 and 2025 respectively.