The University of Guyana (UG) on Saturday launched its Zoom Rooms project which it says lays down the first building blocks for its blended-learning architecture. The project is part of a gift under the ExxonMobil and Stabroek Block co-venturers Greater Guyana Initiative (GGI), to the tune of US$70,000.
According to a press release from the Department of Events, Conferences and Communication, 18 rooms will service 18 different UG locations including those in Georgetown, Linden, Berbice, Bartica and Anna Regina enabling live classrooms to be broadcast to anywhere with a strong internet connection.
Six Zoom Rooms were part of the demonstration on Saturday, the University said. Director of UG's Tactical Online Services (TOS) Malcolm Williams performed a demo to show how the Zoom Rooms work and was able to link all six rooms explaining that students will now be able to benefit immediately. He explained that Zoom Rooms are specially enabled rooms from which live classes can be viewed in an interactive way by multiple participants in multiple remote areas.
The Zoom Rooms will implement and enhance initiatives that enrich the quality and impact of the delivery of tertiary education and expand the reach of UG's instructions and the capacity of its classrooms, through facilitating a hybrid-in-place and remote-mode of education.
Among the officials present on Saturday for the ceremony were UG Chancellor Professor Edward Greene, Vice-Chancellor Professor Paloma Mohamed Martin, President of ExxonMobil Guyana, Mr. Alistair Routledge, Senior Advisor, Public and Government Affairs Mr. Matthew Scharf among other senior officials of the company.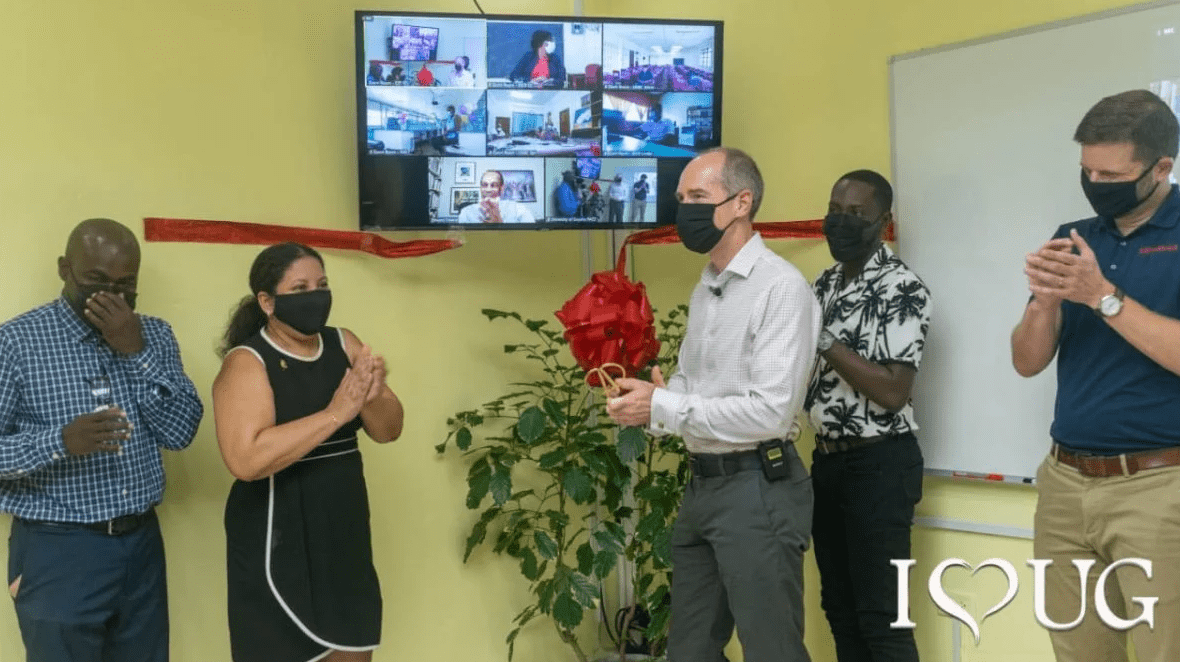 Speaking via link from Washington DC, during the launch, Professor Greene congratulated the UG Teams for conceptualizing and executing the highly complex technical project.
Chancellor Greene further noted that the Zoom Rooms are a critical and dynamic tool for enhancing the conferencing and blended learning operations for UG and expressed appreciation to ExxonMobil Guyana and partners for supporting the initiative.
"I extend appreciation to ExxonMobil, CNOOC and Hess for the Greater Guyana Initiative (GGI) out of which this significant gift has been made possible and for the cooperative spirit in which they so willingly partnered in making this venture a reality," the Chancellor said.
In her brief remarks, Vice-Chancellor Professor Paloma Mohamed Martin recalled that the original mission of the Project when it was first negotiated by the Office of Philanthropy and Civic Engagement (PACE) in 2019 was to establish a digital information room to serve as a central space and operations centre to facilitate local and international teleconferencing meetings, virtual classrooms instructed from universities outside of Guyana, and a data bank facility. She said this was intended to cater for 30 persons per session.
However, the VC explained that in 2020, the University's vision was modified in response to the needs created by the pandemic conditions. The funds were repurposed, and project re- designed to create 18 Zoom Rooms across the University's system with an in-person capacity of over 150 instead of 30.
The VC noted that one of the challenges in higher education across the world, is how to manage those courses that have a practical component to it. However, she highlighted that one innovative way the University is using the technology is to place the facility in labs so that during periods requiring distancing, students who are out of the labs can still be remotely immersed in the process and also benefit from what is happening. The rooms will also cater for physical distancing that may still be required in the foreseeable future.
President of ExxonMobil Guyana Alistair Routledge in his remarks said the University of Guyana plays a critical role of transforming the education system and building the capacity of the country to deliver a sustainable economy. "I think there's a clear partnership, one that we are very happy to enjoy and one that I can see growing in the future," Routledge noted.
GGI is a 10-year commitment of more than GY$20 billion (US$100 million) aimed at significantly expanding capacity building efforts and promoting sustainable economic development in Guyana. The project is fully funded by the Stabroek Block co-venturers and will not be part of the cost recovery process, ExxonMobil has said.