By Dr. Carolyn Walcott & Dr. Terrence Blackman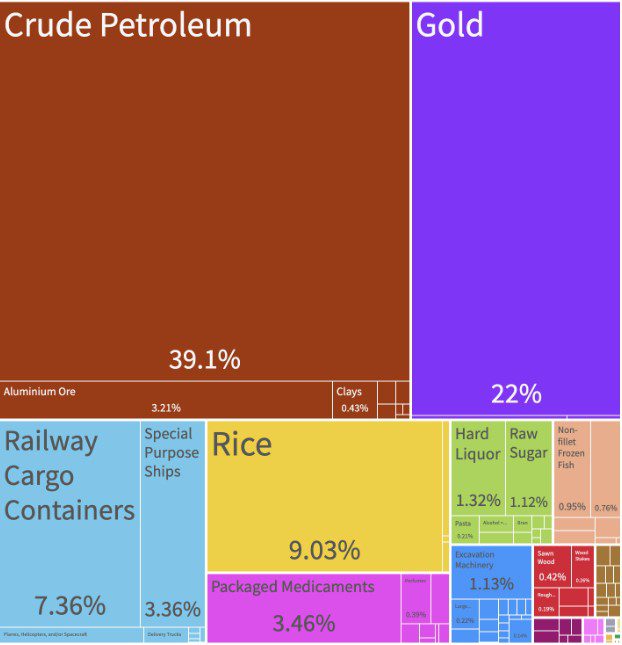 Guyana, a small country on the Atlantic coast of South America, is in the throes of a significant economic transformation. The 2015 discovery of large oil and gas reserves off its coast completely changes the country's trajectory. Guyana is forecasted to produce 1.7 million barrels per day (bpd) of oil by 2035. It is expected to earn billions of dollars in revenue, with some estimates suggesting that the country is likely become one of the wealthiest in the region. 
However, Guyanese must know the potential pitfalls of relying solely on oil revenue, and they must explore ways to use this newfound wealth to support other sectors of the economy. One priority area deserving of amplified support is the agricultural sector. With suitable investments, Guyana's oil wealth could catalyse sustainable farming practices, boost agricultural productivity, and transform the country into a green oasis. Prompted by Episode IX of the Guyana Business Journal and Caribbean Policy Consortium Series Transforming Guyana, we reflect on the promise of Guyana's oil wealth in supporting agriculture and the potential challenges ahead.
Oil is the backbone of Guyana's 2023 economy. Crude oil accounts for approximately 40% of the nation's exports. While large oil reserves have the potential to bring in billions of dollars in revenue, it also poses significant risks. The volatility of oil prices means that Guyana's economy could be severely impacted if oil prices plummeted. Additionally, an economic overreliance on oil can lead to a neglect of other sectors of the economy, resulting in an unbalanced economy that is vulnerable to shocks. Therefore, diversifying the economy beyond oil revenue is crucial for Guyana's long-term economic stability.
Agriculture is a critical sector that must play a decisive role in diversifying Guyana's economy. By investing in agriculture, Guyana can reduce its reliance on oil revenue, boost its economic resilience, and create new socioeconomic growth and development opportunities.
A critical appraisal of Guyana's agriculture sector requires retrospection, incorporating the colonial occupancy, the plantocracy, the enslaved labour force drawn from the African transatlantic slave trade, and the indentured labourers from East Asia. Guyana has had a long history of agriculture, with sugar as king. However, it was recently reported that the Guyana Sugar Corporation (GuySuCo) has set one of its lowest production targets in years. The target for the 2023 first crop has been set at 16,000 tons. Last year's first crop had a production target of 20,261 metric tons, but the corporation only managed to produce 13,076 metric tons of sugar. The era of sugar is over. Despite these challenges, agriculture still has enormous potential in Guyana. The country's fertile soil and favourable climate make it an ideal location for various crops, including rice, which accounted for approximately 9% of the country's 2020 exports, fruits, vegetables, and spices. There is also significant potential for livestock production, particularly in the poultry and dairy sectors.
Despite its potential, the agricultural sector in Guyana faces several challenges. One of the most pressing is the need for more infrastructure. Many farmers in Guyana need access to basic infrastructure such as roads, irrigation systems, and storage facilities. Otherwise, this makes it difficult to transport goods to market and store them properly, leading to significant losses. Another challenge facing the agricultural sector in Guyana is the need for more access to credit. Many small-scale farmers in the country need help to access the financing they need to invest in their farms and improve their productivity.
In a sense, the privileging of the colony's plantation sector, above others, undermined Guyana's small-scale farming through the lack of financing and the development of necessary supporting infrastructure for optimal production. Over a century later, the small farming sector faces real financing challenges and climate change. Senior lecturer at the University of Guyana's Faculty of Agriculture and Forestry, Dr. Elroy Charles, has suggested that early warning systems are necessary for farmers to implement measures to mitigate climate change, even as they consider diversifying. He also believes that effective zoning is needed for agriculture, housing, and mining, as these intersect with increased agriculture production. In the meantime, the agriculturalist offered that small farmers require assistance with low-interest rates through a facility such as the now-defunct Guyana Agricultural Industrial Bank (GAIBANK).
Sustainable farming practices are crucial for the long-term health of the agricultural sector in Guyana. These practices help to preserve the country's natural resources, improve soil health, and reduce the use of harmful chemicals. Oil revenue will be crucial in supporting sustainable farming practices in Guyana. By investing in research and development, the government can catalyse the identification and promotion of sustainable farming practices appropriate for Guyana's unique climate and soil conditions. Additionally, by funding training and education programs, the government can help farmers adopt these practices and improve their productivity.
Agro-processing and value-added agriculture can also significantly boost the profitability of the agricultural sector in Guyana. By processing raw agricultural products into finished goods such as juice, jams, and sauces, farmers are likely to capture more of the value of their products and create new growth opportunities. Cheaper electricity—soon to be powered by natural gas and hydro—is essential for an internationally competitive food processing industry. Additionally, the government can create a favourable regulatory environment for the agricultural sector. This includes policies that promote land tenure security, protect the environment, and provide industry investment incentives.
Collaboration between the private and public sectors is crucial for supporting the agricultural sector in Guyana. The private sector can play a key role in investing and providing technical expertise. Additionally, collaboration between farmers is crucial for improving productivity and profitability. Farmers can reduce costs and improve their bargaining power by forming cooperatives and sharing resources.
A country's resource wealth does not necessarily guarantee national development. But oil brings hope. Guyana's oil wealth can transform the country's economy, but it poses significant risks. Diversifying the economy beyond oil revenue is crucial for long-term economic stability, and agriculture has the potential to play a vital role in this diversification.
However, the agricultural sector in Guyana faces significant challenges, including, critically, a need for more infrastructure and access to credit. Oil revenue will be crucial in addressing these challenges and supporting development as a new agricultural sector emerges that centers its role alongside the oil and gas industry.
About the Author
Dr. Carolyn Walcott is a media and communications educator and scholar with a diverse background in journalism education, international communication, and media development. She received her undergraduate degree in Communication and her Graduate Diploma in International Studies at the University of Guyana. She completed her M.A. in Communication and Development at Ohio University and her Ph.D. in Communication at Georgia State University. Her research agenda focuses on media pedagogy and practice, national identity, rhetoric, and political communication.
Dr. Terrence Richard Blackman is a member of the Guyanese diaspora. He is an associate professor of mathematics and a founding member of the Undergraduate Program in Mathematics at Medgar Evers College. In addition, he is a former Dr. Martin Luther King Jr. Visiting Professor at MIT and a member of The School of Mathematics at The Institute for Advanced Study. He previously served as Chair of the Mathematics Department and Dean of the School of Science, Health, and Technology at Medgar Evers College, where he has worked for more than twenty-five years. He graduated from Queen's College, Guyana, Brooklyn College, CUNY, and the City University of New York Graduate School.