Guyana will next month host a number of the world's largest petroleum companies as the
South American nation prepares to run its inaugural Guyana International Petroleum Business Summit and Exhibition (GIPEX) 2018.
Built as the premier confab to promote the networking of international and local stakeholders, the activity to be hosted from February 7 to 9, 2018 was on Wednesday formally launched by Minister of Natural Resources Raphael Trotman.
He was joined by Minister of Business Dominic Gaskin, Chief Executive Officer of the Guyana Office for Investment (GO-Invest) Owen Verwey, Managing Director of Valiant Business Media Shariq AbdulHai and Country Manager of ExxonMobil, Rod Henson.
Platform for Opportunity
Mr. Trotman, in addressing the opening ceremony at the Guyana Marriott Hotel, said the Administration was being deliberate in its attempts to bring expertise and business networking opportunities to Guyanese within its borders.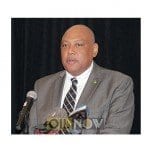 "We believe that bringing some of the world's leading companies to meet local interests and concerns is way better than taking Guyanese business interests and business persons to the different parts of the world," he said.
The Minister said that Government – through its participation in GIPEX 2018 – is providing a "platform and an opportunity for all of those who speak about local content and the desire to see more of it to actually shake hands and to touch the Schlumberger and the others who do this and have been doing this for the last 10 and five decades."
According to Mr. Trotman, "this is our way of saying we are in partnership with you; Government does not wish and does not believe that it should be the ones who dictate."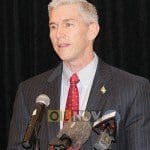 ExxonMobil's Country Manager, Rod Henson, told stakeholders that the company is pleased to be associated with GIPEX 2018 as its Strategic Partner, saying the company feels obligated to share its experiences and to participate in such deliberations surrounding Guyana's emerging Oil and Gas sector.
Henson, in lauding the initiative said, "This GIPEX event is really important in the industry since it provides an opportunity for stakeholders to network, make contacts and share ideas…and also really just showcases Guyana."
Public/Private Partnership
GO-Invest CEO Mr. Verwey, in his remarks to stakeholders present at the Marriott for the launch, used the occasion to provide some insight into that entity's role in relation to the conference.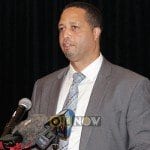 He was quick to point out that the three-day event is in fact partially sponsored by the Guyana Government as part of a Public/Private Partnership in order to ensure that the stated objectives of the forum be realized.
Such a realization, he said, would redound to benefits for businesses and the economy in general and domestically.
Pointing out that GO-Invest primarily functions as the Government's principal agency for attracting investment and supporting exports, the CEO was adamant that activities such as GIPEX 2018 would assist the local industry in gaining the necessary skillset required to support the development of the sector.
"From our perspective being a part of the organizing of this activity has always been about ensuring the activity brings benefit to Guyana and we look forward to ensuring local businesses have something involved in it," he said.
Strategic Alliances
According to the GO-Invest CEO, the conference will provide a platform for networking among local, regional and international stakeholders, and delegates will be accommodated for one-on-one meetings with businesses and industry players.
He related that by the close of GIPEX 2018, the organisers are looking to ensure "there is some sort of partnerships, joint ventures, strategic alliances; however we want to term it – the development of that so those who have something locally to offer can seek and convince those who are looking for local partners here to develop and benefit from that."
Minister of Business Dominic Gaskin also lauded the initiative saying GIPEX 2018, "once properly organised and properly executed" can be of benefit to a number of stakeholders groups and the country in general.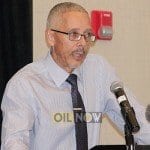 "We see this as a major international event and one that can be used to promote Guyana as an emerging oil and gas producer," Mr. Gaskin suggested.
He posited too, "It is also an opportunity for the Guyana Government and its local Private Sector to work together to showcase Guyana; as a pro-business destination, as a place where things are happening, as a place where investors are welcomed and as a place with a bright future."
The Minister with responsibility for Commerce and Industry in Guyana also used the occasion to point out what he called an opportunity for networking for the local Private Sector with their international counterparts globally during GIPEX 2018.
GIPEX 2018 is envisioned to engage domestic, regional and international stakeholders in the
oil and gas industry through seminars, presentations and workshops focused on health, safety and environment, sustainable management of the industry as well as incorporating Guyana's green initiative into its development.
350 DELEGATES
Already attracting in excess of 350 delegates from across the world, GIPEX 2018 will see
participation from former Premier of Alberta, Canada, Ms. Alison Redford (World Bank Group), Ms. Lisa Waters, Vice President, Americas, ExxonMobil Development Company, Dr. Suresh Narine, CGX Energy Inc., Mr. Stephen D. Cashin, Pan African Capital Group, Dr. Kase Lawal, CAMAC International Corporation, and several other speakers.
Some international companies slated for participation at GIPEX 2018 include Haliburton,
PricewaterhouseCoopers, Chevron, Repsol, Schlumberger, Petronas, Firecroft
Group, Cataleya Energy Limited, Vinci Energies Oil and Gas, and the National Energy Corporation of Trinidad and Tobago Limited.
Panel discussions and presentations are expected to also feature entities such as Noble
Drilling, Total SA, Eco-Atlantic, Tullow Oil, and the Guyana Geology and Mines Commission
(GGMC).
Billed to deliver keynote presentations are Guyanese Head-of-State, President David Granger, Natural Resources Minister, Raphael Trotman, Minister of Business Dominic Gaskin, Minister of Public Telecommunications, Catherine Hughes and Minister of Public Infrastructure, David Patterson.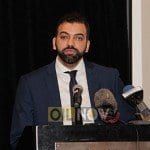 The three-day affair is being organized by United Kingdom's Valiant Business Media with support from GO-Invest, as the lead agency in Guyana, and the Ministry of Natural Resources.