With just 24 hours remaining before the inaugural Guyana International Petroleum Exhibition and Summit (GIPEX) begins, organisers say registration is approaching maximum capacity, even as more persons look to sign on to participate in the signature event.
"For the inaugural event it is jam-packed. We are looking at around 500 to 600 people in the conference room (for the opening ceremony). The meeting rooms have all been set up; a lot of companies are asking for B2B (business to business) meetings and they have already started networking a couple of days in advance of this event," stated Shariq AbdulHai, Managing Director of UK-based Valiant Business Media – the lead organizing company.
Guyana's Minister of Natural Resources, Raphael Trotman, toured the facility on Monday as workers were putting finishing touches on the more than 70 booths being set up in the parking lot of the Marriott Hotel where the exhibition will take place.
Mr. Trotman said he was impressed with the layout and quality of work being done which is an indication that Guyanese are fully capable of elevating standards in keeping with what is required and expected in the oil & gas industry.
"All Guyana should be proud because as we move towards embracing oil production and first oil in a few months we will have to lift standards throughout the country…so it's good to see that we can demonstrate to ourselves firstly, and secondly to the rest of the world, that we can lift our standards and that we can compete with the best in the world," he said.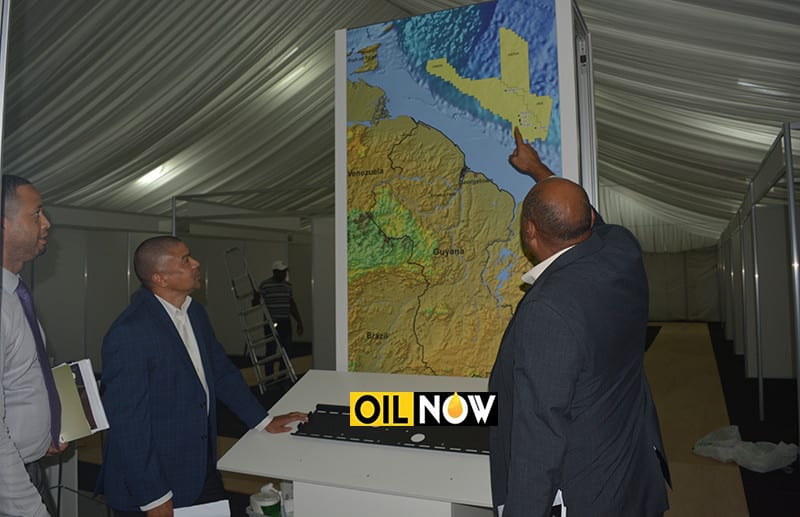 Chief Executive Officer of GO-Invest, Owen Verwey, said the event will serve as a boost to the local economy over the coming days since the hundreds of persons visiting the country will be utilizing a number of services that are being provided by Guyanese companies and entrepreneurs.
"My assessment is that it will do well for the local economy over the three to four days that people are going to be here. We know that many of the taxi services, restaurants and hotels are either fully booked or way over their normal capacities," Mr. Verwey stated.
The three-day event begins on Wednesday at which Guyana's President, David Granger, is slated to deliver the keynote address.