Guyana accounts for over 70% of ExxonMobil's new proven reserves placing it way ahead of its peers for new discovered volumes. However, Norway-based Rystad Energy is sounding an ominous warning that Big Oil could see proven reserves run out in less than 15 years if output is not replaced by new discoveries.
"The proven oil and gas reserves of the group of major companies called "Big Oil" are falling at an alarming rate, as produced volumes are not being fully replaced with new discoveries," the consultancy group said. It pointed out that its analysis shows that Big Oil lost 15% of its stock levels in the ground last year, with remaining reserves set to run out in less than 15 years – unless the group makes more commercial discoveries, and fast.
Rystad Energy said the task is becoming more and more challenging as investments in exploration shrink and success rates slump. "The declining proven reserves could create serious challenges for Big Oil (ExxonMobil, BP, Shell, Chevron, Total and Eni) to maintain stable production levels in coming years," Rystad Energy stated. "This would in turn cause revenue to dwindle and pose a major threat to the financing of the group's energy transition plans."
Big Oil saw its proven reserves drop by 13 billion barrels of oil equivalent (boe) in 2020 as the companies took large impairment charges.
In Guyana, 2020 saw a dip in the number of exploration wells drilled for the first time since 2015 with new discovered volumes shrinking to 1 billion barrels of oil equivalent resources.
And globally, Rystad Energy said this year's exploration has not come off to a great start either. The industry's global first quarter discovered volumes totaled 1.2 billion boe, the lowest in seven years, as high-ranked prospects failed to deliver, and successful wildcats only yielded modest-sized finds.
The collapse in crude oil demand and prices due to the pandemic and an increased focus on capital discipline has led to investment cuts that could aggravate the challenge of many major operators as they strive to boost their proven reserves. Even for European majors, which are increasingly focusing on the energy transition, business models will continue to be dominated by the sale of oil and gas.
"The ability of Big Oil to generate future revenues will continue to depend on the volume of oil and gas the companies have at their disposal to sell," says Parul Chopra, Vice President of Upstream Research at Rystad Energy. "If reserves are not high enough to sustain production levels, companies will find it difficult to fund expensive energy transition projects, resulting in a slowdown of their clean energy plans."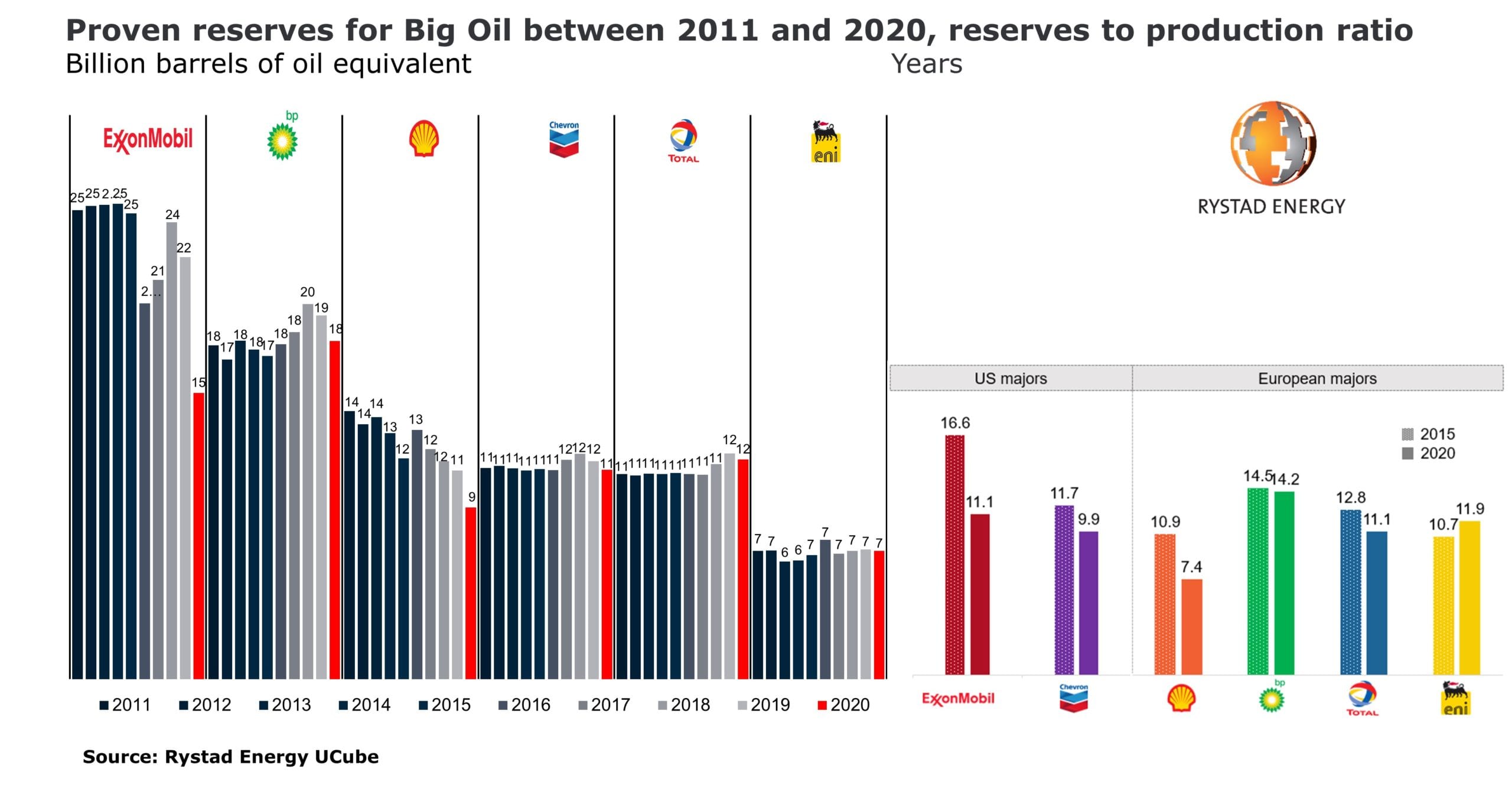 ExxonMobil's proven reserves shrank by 7 billion boe in 2020, or 30%, from 2019 levels. This was mainly due to reductions in Canadian oil sands and US shale gas properties. Rystad Energy said the company's proven reserves of liquids in Canada were revised from 4.8 billion barrels of oil to less than 900 million barrels, while bitumen-related reserves for the Kearl and Cold Lake oil sands projects were slashed from 3.8 billion barrels to less than 100 million barrels. In addition, liquid reserves related to some US shale plays have been reduced by 1 billion barrels.
Also, ExxonMobil's proven gas reserves dropped last year by 9 trillion cubic feet, mostly in the US. The revisions were primarily linked to the gas assets ExxonMobil bought from XTO in 2009.
Shell, meanwhile, saw its proven reserves fall by 20% to 9 billion boe last year. Liquid reserves accounted for one-third of total reductions and were mostly down to US and South American projects, and a lack of new discoveries elsewhere. Gas reserves accounted for two-thirds of the reductions, led by a 600 million boe revision in Australian projects.
Chevron also suffered reserve losses due to impairments, despite the addition of around 2 billion boe of proven reserves to its inventory through the acquisition of Noble Energy. Similarly, BP saw its total proven reserves drop from 19 billion boe in 2019 to 18 billion boe in 2020, mainly due to the sale of existing assets and a lack of major new discoveries. Total and Eni, however, have been able to avoid any reduction in proven reserves over the past decade.
Amid the proven reserve reductions – due to impairments and a lack of new discoveries – Rystad Energy said companies are seeing a negative impact on their ratio of proven reserves to production. "When assessing the development of this ratio for the period from 2015 through 2020, ExxonMobil, Chevron and Shell show the highest decline."
For ExxonMobil, for instance, the proven-reserves-to-production ratio has not fallen below 13 years for the past two decades, but the 15 billion boe of reserves declared in 2020 means its volumes would run out in just over 11 years, compared to the previous expectation that these would last for more than 16 years. The reserves to production ratio for Shell, meanwhile, fell dramatically to 7.4 years in 2020 – the lowest level among all majors. The company has already reported its oil production peaked in 2019 and it expects an annual decline in output of between 1% and 2% until 2030.
According to Rystad Energy, new discovered volumes – a measurement of a company's exploration performance – illustrates the daunting challenge faced by oil majors to maintain their reserves base and supply existing customers. Over the past five years, the six majors have replaced only 45% of their production through reserves from new discoveries.
"ExxonMobil fared better than its peers, adding more than 70% of the produced reserves thanks to 9 billion boe of discovered volumes in the offshore Stabroek Block in Guyana," Rystad Energy stated.
The 1 billion barrels discovered last year in Guyana came down from 3 billion barrels just a year earlier, in 2019, following a trend that has seen a steady annual increase in exploration drilling at the Stabroek Block, since 2015.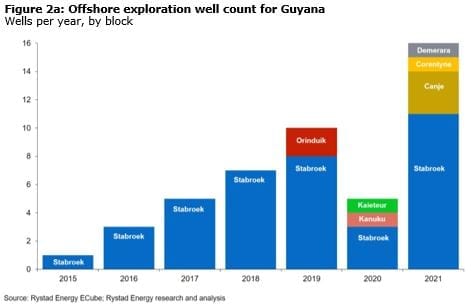 Rystad Energy said Total also enjoyed significant exploration success last year in the Guyana-Suriname basin, while Eni did well thanks to success in Africa. Chevron and Shell, on the other hand, have struggled to register new discovered volumes. Chevron managed to replace only 15% of its produced volumes from 2016 through 2020, while Shell replaced 27%.