Even as one expert has concluded that building a 100,000 bpd capacity refinery in Guyana would not be economically feasible, the government says it is still open to examining other options and will meet with persons who have submitted proposals to establish a refinery in the South American country.
Pedro Haas, Director of Advisory Services at Hartree Partners was hired by the Guyana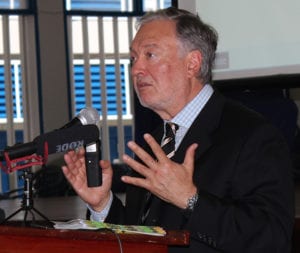 government to examine the economic feasibility of setting up an oil refinery in the country. He presented his findings on Wednesday to members of the public, in Georgetown, Guyana. Haas said a capital investment of US$5B would be needed to build the facility, and based on a number of variables, recouping the investment and turning a profit over the period of oil production, is highly unlikely.
The country's Minister of Natural Resources, Raphael Trotman, said a clear question was asked of the consultant, and to this, an answer was provided. "Government asked a question and we got an answer to the question but now we have to superimpose over that; some political and other considerations."
Given the immediate reaction from persons gathered at the presentation of Mr. Haas' findings yesterday, the Guyana government will almost certainly be looking to weigh other options for the establishment of a refinery in the country, even if that comes with little to no profitability. "There are refineries in other parts of the world which may not be turning an economic profit, but they provide other benefits…," Mr. Trotman pointed out.
He alluded to Mexico which has six refineries with low profitability, nothing however that, "…they do bring other benefits; creating jobs, etc.," adding that these are considerations that the Guyana government would have to address.
Looking beyond the Haas Report, which Mr. Trotman said would be thoroughly reviewed, the Government of Guyana would be open to examining other options, including a refinery with much smaller capacity.
"The five-billion-dollar price tag is for a hundred thousand barrels per day. So, you heard about Suriname having one for fifteen thousand, so maybe it could be scaled, we don't know…" Mr. Trotman said.
The Guyana government will be looking closer now at proposals submitted by persons for the establishment of a refinery in the country, and how, if a decision is made to move forward with a smaller-scale facility, such a venture would be funded.
"We are hoping that we can meet with the persons who submitted proposals to the government and Go-Invest (Guyana Office for Investment) and to work with them to see if they would like to do something; in what ways could government give incentives and to assist, without of course ensuring that we don't have a 'white elephant' like a Skeldon Sugar factory on our hands, in a few years' time," Mr. Trotman stated.
The Skeldon Sugar Factory is a US$187M facility commissioned in 2009 to process and refine sugar cane and boost production in Guyana. The factory has faced a number of engineering problems and has continuously under-performed, failing to turn a profit.
US oil major, ExxonMobil, is scheduled to begin oil production in Guyana by 2020 at an initial estimated 120,000 bpd.