With US and Canadian oil production growth tapering off, Brazil is poised to be one of the key sources of expansion over the medium term, while all eyes are on newcomer Guyana where output is on course to skyrocket this decade.
According to the International Energy Agency (IEA), Brazil state oil company, Petrobras, expects its production of oil and gas to rise from 2.85 moeb/d in 2020 to 3.3 mboe/d by 2024, and hold steady in 2025. IEA said in its latest business plan, Petrobras cut its five-year investment budget by 27% from a year ago, to $55 billion, in order to preserve cash. Approximately 84% of the total, or $46 bn, will go towards exploration and production, with approvals limited to new projects that can be profitable at oil prices as low as $35/bbl.
"Petrobras plans to bring on stream 13 new floating production, storage and offloading (FPSO) vessels by 2025," IEA said in its Oil 2021 Report. "The biggest developments will go into the Búzios field, which will see four additional units installed, lifting capacity from 600 kb/d currently to 1.35 mb/d." A further four FPSOs could be brought online from 2026.
"Significant growth will also come from Guyana, where ExxonMobil, Hess and CNOOC have made some of the biggest discoveries in recent years," IEA said.
Since 2015, more than 9 billion barrels of recoverable oil equivalent resources have been found, and in 2019, oil started flowing from the 120 kb/d Liza Phase 1 development in the Stabroek block where ExxonMobil is operator. Phase 2 of the project, which will add 220 kb/d of production, is expected to start up in 2022, and last September, FID to proceed with the Payara field was taken. Payara will produce up to 220 kb/d after start-up in 2024.
"Further developments are likely to be sanctioned and onstream in coming years, with the consortium stating they expect to produce more than 750 kb/d by 2025/26," IEA stated.
This volume is also expected to rise even further, with Hess Corporation, a 30% stakeholder at the Stabroek Block, recently saying that output will exceed 1 million b/d before 2030.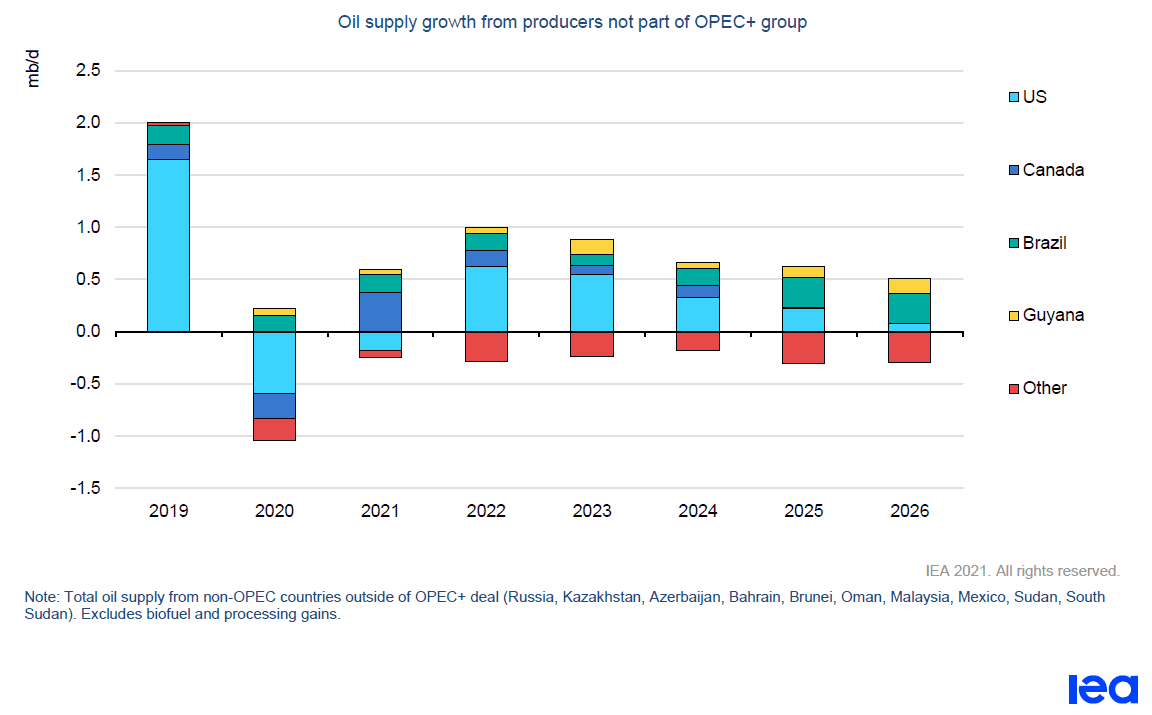 While investments in Guyana remain favourable despite the financial impact of the pandemic on the industry, IEA said elsewhere in Latin America, prospects have dimmed, with investment cuts expected to take their toll on supply over the medium term.
"Tight oil developments in Argentina have slowed, and output in Colombia is expected to fall sharply towards 2026, with few new developments on the books," IEA said.