With eight commercial oil discoveries made since 2015 and just two dry holes, Guyana's success rate stands at a record 80% while the industry average is 35% in general and 20% for frontier regions.
Senior Analyst at Norway-based Rystad Energy, Sonya Boodoo, told over a hundred attendees at a special presentation on Guyana's revenue share from oil production held on Tuesday evening in Georgetown, that this success places the South American country at number 12 in the world in terms of discovered resource since 2010. "Guyana is doing really well as a newcomer to the industry," she said, adding that the 80% percent success rate, "…is very high compared to other offshore regions…the rate here in Guyana is quite impressive."
Dissecting the discoveries even further, the Analyst said Guyana is also leading the pack when looking at oil discovered in the timeframe since the giant Liza discovery in 2015. "What we see is that Guyana ranks at the highest in terms of offshore oil volumes discovered within that timeframe." The United States comes in second after Guyana with around 1 billion barrels less than the 3.2 plus billion barrels found so far by ExxonMobil in the Stabroek Block.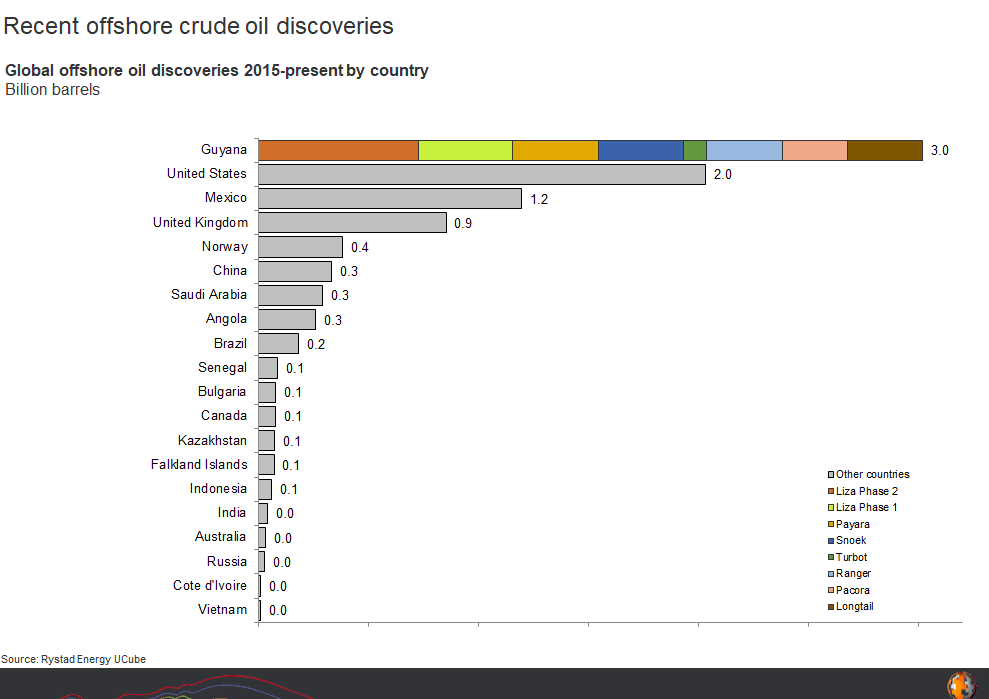 Boodoo also did a comparison of offshore oil barrels per capita which shows the significance of the resources in the Stabroek Block. "Looking at the metric of offshore oil barrels per capita for countries across the world, what we see is Guyana ranks highest in terms of this metric with 3,900 barrels per person remaining in the ground currently."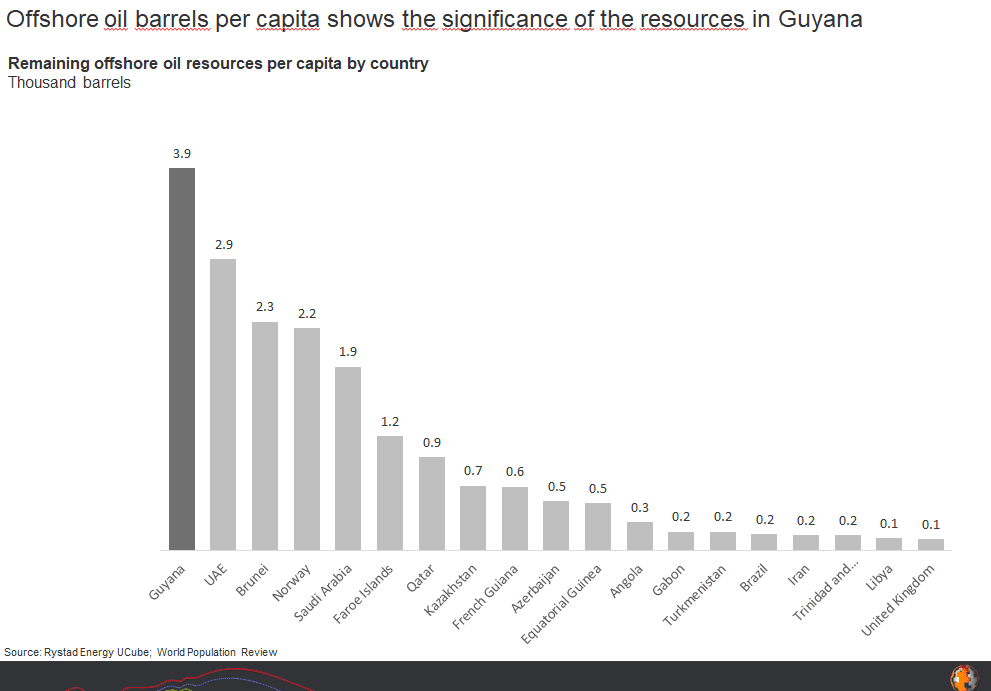 The United Arab Emirates comes in at number two with 2,900 barrels per person. Further comparisons show that Norway stands at 2,200 barrels person, Saudi Arabia 1,900, Qatar 900, Brazil 200 and Trinidad and Tobago 200.
The Analyst, whose presentation was facilitated by the Private Sector Commission of Guyana,  said this represents "enormous wealth" for Guyanese "and it should be treated right for everyone to benefit from it."
From all indications, this wealth is on an upward trajectory. UK-based Wood Mackenzie says that the potential for more discoveries in Guyana is at an all-time high and expects the current total recoverable reserves, which it estimates to be more than 4 billion barrels, to further increase in coming years.