The Guyana government published payments received in the Natural Resource Fund (NRF) in the final quarter of 2022 (October-December), revealing that the final profit oil lift sold in December returned US$83.808 million.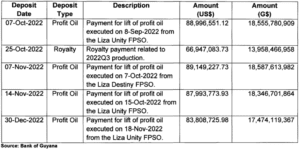 In December, US$207.6 million was also withdrawn as the third and final tranche of budget support for 2022. Consequently, the Fund closed December and the year with US$1.27 billion, the Ministry of Finance noted in a concluding statement. The government said that it reported the revenues received, to the Parliament of Guyana, in-keeping with requirements of the one-year old Natural Resource Fund Act. 
OilNOW had projected that US$998.5 million would be available for use from the Fund for Guyana's 2023 budget, based on the government's expectation of US$1.247 billion in oil revenues in 2022. Based on the formula in the Act used to calculate withdrawals, that figure has been revised upward to US$1.01 billion, since the Fund closed the year with more money than was expected.
| | |
| --- | --- |
| Formula | Projected withdrawal for 2023 budget |
| 100% of first US$500 million | US$500 million |
| 75% of second US$500 million | US$375 million |
| 50% of remaining US$270 million | US$135 million |
| TOTAL | US$1.01 billion |
Table shows application of formula used to calculate Guyana oil fund withdrawals
The Guyana government is expected to present this year's budget in February 2023, making use of the US$1.01 billion in legally allowable oil revenues to expand its budget. The government is expected to focus major amounts on expanding public infrastructure, including roads, bridges, hospitals, and the landmark Gas-to-Energy project.
Guyana's 2022 revenues improved significantly from those received in the prior year. The increase was impacted by debottlenecking of the Liza Destiny floating production, storage and offloading (FPSO) vessel and the start-up of the Liza Phase 2 project. While production capacity offshore Guyana effectively tripled to 360,000 barrels per day in 2022 over the prior year, production only maximised in the second half of the year. Both projects achieved background flare and started producing at capacity in July. ExxonMobil operates the Liza projects with a 45% operating interest. Hess and CNOOC hold 30% and 25% respectively.
The projects produced 36.40 million barrels of oil per day in the first six months, and 55.19 million barrels from July to November. Production from January to November averaged approximately 274,213 bpd. This average is expected to increase slightly with the December production figures. January to November production totaled nearly 92 million barrels. OilNOW expects full year production to exceed 100 million barrels.