Guyana's updated Natural Resource Fund Act outlines a clear and simple formula for the calculation of withdrawals allowable from the Fund each year.
Based on this formula, using US$1.247 billion expected from oil in 2022, approximately US$998.5 million is projected to be available for withdrawal and spending in the new year. This would represent 80% of the Fund's expected 2022 inflows. Consequently, US$248.5 million (20%) would remain in savings.
The expected earnings are constituted by US$1.1 billion in profit oil sales and US$147 million in royalties. This US$1.247 billion projected, according to the Ministry of Finance's Half-Year report, is a revision that was produced after the evolution of world market prices due to the Russia-Ukraine war, up from US$957.6 million projected in the 2022 budget.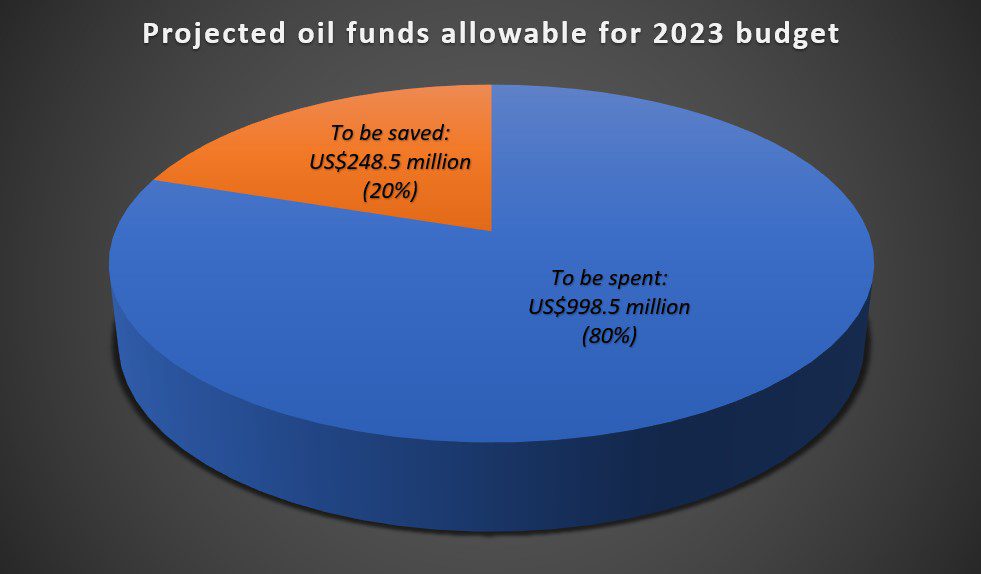 The withdrawal rule
The first schedule of the Natural Resource Fund Act outlines a formula called the withdrawal rule, which establishes a ceiling for withdrawals in any given year. The rule confines the withdrawal in any year to the Fund's inflows from the previous year.
It was instituted after the previous rule was criticised for departing from good practice. As it exhibited a great degree of complexity, the Inter-American Development Bank (IDB) had said that the old formula was "among the most complex operational rules for a resource fund in the world… [and] departs from good practices."
The new rule allows the withdrawal of 100% of the first US$500 million made in the prior year, 75% of the second US$500 million, 50% of the third, 25% of the fourth, 5% of the fifth, and 3% of any amounts in excess of US$2.5 billion. The International Monetary Fund (IMF) has recognised the updated law for promoting transparency and public understanding.
| | |
| --- | --- |
| Formula | Projected withdrawal for 2023 budget |
| 100% of first US$500 million | US$500 million |
| 75% of second US$500 million | US$375 million |
| 50% of remaining US$247 million | US$123.5 million |
| TOTAL | US$998.5 million |
The Act allows one exception to the withdrawal rule, for the first year of the operation of the Fund, in which the entire balance of the Fund can be withdrawn. Pursuant to this, Guyana's National Assembly approved the withdrawal of US$607.6 million in February to support the 2022 budget. The government opted to withdraw the funds in three tranches. The first two, amount to approximately US$400 million.
According to Guyana's 2022 budget, which projects oil earnings and withdrawals from the Fund up to 2025, Guyana intends to spend about 60% of its total earnings.
The government has frowned on proposals to use oil earnings for major subsidies and cash transfers, opting instead for focused spending on capital projects to modernise the country's physical infrastructure, improve critical social services, and facilitate economic diversification.