Guyana's Central Bank – the operational manager for the Natural Resource Fund (NRF) – disclosed on Monday that third-quarter inflows amounted to GY$102.82 billion (US$493.18 million). This comprised of profit oil totalling GY$92.18 billion (US$442.12 million) and royalties totalling GY$10.64 billion (US$51.06 million).
The receipts of oil revenues into the fund for the period July to September 2022 represented the highest quarterly inflows.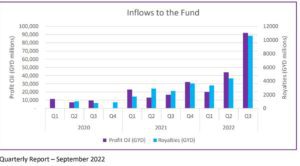 Outflows in this quarter amounted to US$200 million, the second withdrawal of the US$607 million approved as budget support in February.
In its breakdown of the revenues received, it was noted that Guyana earned US$122,973,502.40 from the Liza Unity vessel in July 2022 and US$102,543,769.89 in August. From the Liza Destiny, Guyana earned US$117,445,452.90 in July and US$99,161,132.32 in September.
To date, Guyana has earned US$963,684,018.21 from the Liza Destiny and US$328,065,497.39 from the Liza Unity.
Inclusive of royalties, the account has received US$1,444,875,131.97 in earnings since its inception. These were deposited into the Natural Resource Fund Account held at the Federal Reserve Bank of New York.
Almost US$1 billion in oil revenue could be plugged into Guyana's 2023 budget | OilNOW
Over the third quarter, the Central Bank reported that the Federal Reserve increased its target range for the federal funds rate twice moving it from 1.5% – 1.75% to 2.25% – 2.5% and then again to 3% – 3.25%.
As a result of these increases which caused interest rates on overnight deposits to rise significantly, and a higher account balance, the Fund continued to earn a higher level of interest income on its overnight deposits than in previous quarters.
The Fund actually earned a whopping GY$995.75 million (US$4.78 million) in interest income over the quarter compared to GY$266.04 million (US$1.28 million) the previous quarter.
To date, there has been no investment mandate for the Fund. A revised Natural Resource Fund Act was passed in the National Assembly and assented to by the president on December 30, 2021. This revised Act assigns the responsibility for the preparation of the investment mandate to a Board of Directors.