South America's oil and gas output is expected to stay rather flat over the next five years, increasing to around 11.7 million barrels of oil equivalent per day (boe/d) by 2025, says Norway-based Rystad Energy. The declining production from Venezuela, Argentina and Colombia is partially offset by increasing volumes from key projects in Brazil such as Lula, Buzios, Iara and Libra. Post 2020, increasing contributions are also expected from Guyana with the first phase of the Liza discovery scheduled to be online in Q1 2020.
Rystad says E&P investments are expected to recover post 2019 to support this growth, as key projects are approved.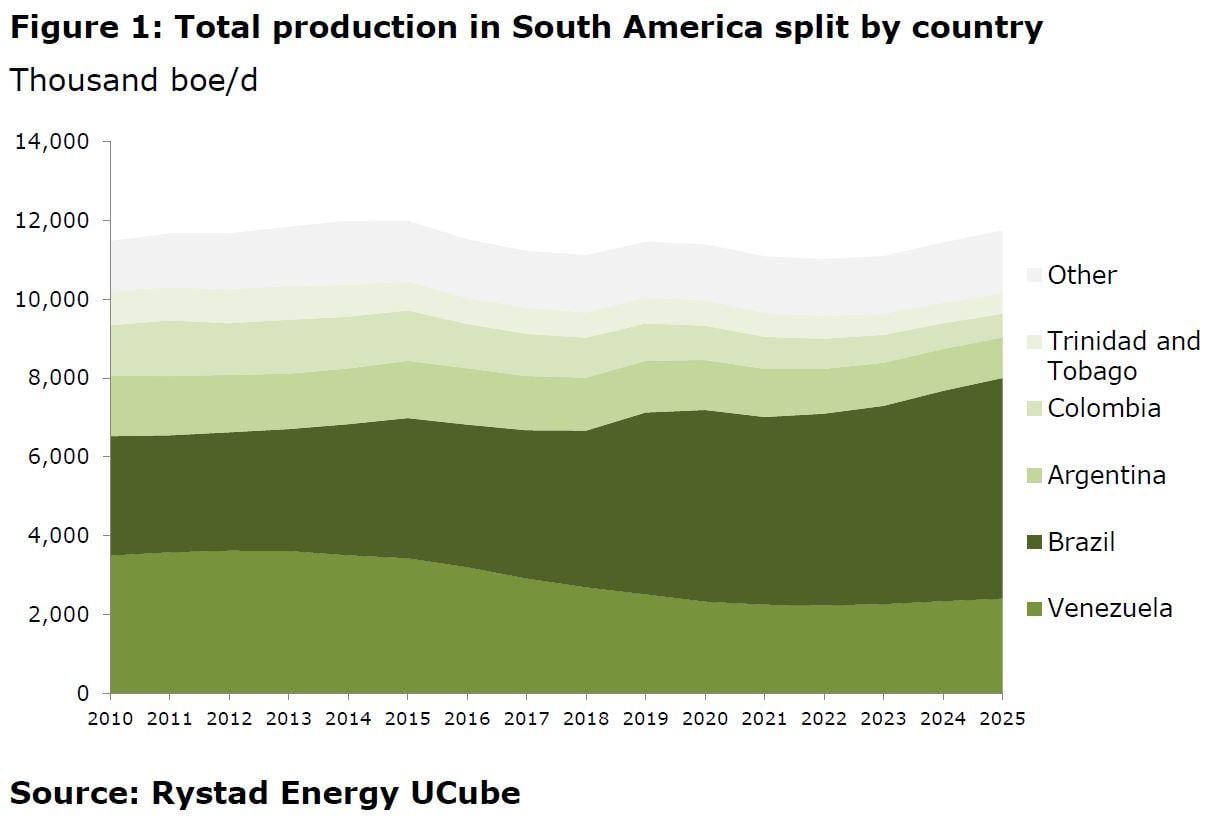 Figure 1 shows South America's total production, split by countries, from 2010 to 2025. Supply is on a decreasing trend since 2015 in South America. Brazil is the largest producer in the region, and the only country that has been increasing production despite the downturn. High level of investments made in the country before the oil price collapse secured production growth potential for the years to come, and as such, Rystad forecasts a yearly growth of 9% from 2017 to 2020, fully driven by sanctioned fields starting to produce in the short to medium-term.
Venezuela, on the other hand, has been the main contributor to decreasing production in the region. Output has plummeted from the level of 3.62 million boe/d in 2013 down to 2.9 million boe/d in 2017, particularly driven by large decline rates at El Furrial field. The country's output is forecasted to continue to decline towards the early 2020s before flattening out at the level of 2.3-2.4 million boe/d.
Supply in the remaining South American countries has been rather stable before 2014, with declines observed in Colombia, Argentina and Trinidad and Tobago from 2016 onwards. Rystad says it currently forecast production in these countries to continue to fall in the future, particularly led by Colombia and Argentina, where fields like Loma de la Lata and Rubiales-Piriri exhibit decline rates of 10-20% per year.
Figure 2 shows the discovered volumes in South America from 2005 to 2017, split by life cycle and key unsanctioned projects. By far the best year for exploration in the region was 2010, when almost 16 billion boe were discovered. Some growth in discovered volumes in the region was also seen in 2015 when ExxonMobil made the Liza discovery, adding 1200 million boe in reserves in Guyana. A total of seven discoveries have been made in Guyana, pushing recoverable reserves to more than 3.2 billion boe in the country.