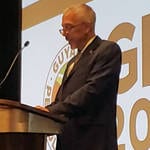 Former Minister of Business in Guyana Dominic Gaskin believes that while there will be some meeting of Guyana's needs from oil revenues in the short term, the real benefits to the country will be had during the medium and long term.
Gaskin was delivering the feature address to the audience of the Guyana Petroleum
Summit held on Thursday at the Marriott Marquise in downtown Houston Texas.
During the presentation he emphasized government's efforts at strengthening the economy to stave off the pitfalls of many other countries that found oil – becoming over dependent on the commodity to the detriment of other sectors.
"I know that the government is committed to developing a green economy and to strengthening its agricultural, agro-processing, mining and forestry industries; and developing its tourism and services sectors. Because, as promising as it is, Guyana cannot afford to become completely dependent on oil or any other non-renewable resource," said Gaskin.
"And I'm also aware that government recognizes the importance of ensuring that its depleting natural resources are replaced with sustainable human capital and a globally competitive economy," he added
He posited that these objectives are achievable given the expected revenues from oil and Guyana's small population. "And of course there is every indication that Guyana's oil resources extend beyond just the Stabroek block. So government's role is critical and the decisions made by government in the lead up to production, and in the early days of oil production will set the tone not just for how the sector evolves in Guyana, but for how Guyana's entire economy evolves as an oil producer," he said.
He made the point that for Guyana to achieve these objectives, partnerships with reputable international companies are important.
"Guyana needs private investment, expertise, technology and training. Some of this have to come from outside of Guyana, especially in sectors that are new to us but even in traditional sectors where we lack the financial and human resources," he said. "So I completely endorse the theme of today's discussion: Guyana, a new frontier – something for everyone; investors, operators and service companies."
He said that the need for partnerships transcends the oil and gas sector. "I know that's where the big money is, and I understand that Houston is the hub of the industry and that today we should be talking oil, and areas related to oil exploration and production, but it is important for me to emphasize Guyana's long-term priorities.
"Because long-term partners, or potential long-term partners, need to understand each other's goals and priorities in order to build strong partnerships that will ensure the win-win outcomes that we all know are possible, but which are not always achieved," he said.
GO-Invest, the government agency under the watch of the former business minister, collaborated with the Georgetown Chamber of Commerce and Industry to bring 24 business entities to the Offshore Technology Conference in Houston Texas with a view to fostering business relations to build capacity and benefit from the opportunities presented in the oil and gas sector in Guyana.