The best of Jamaican businesses are currently scouting investment opportunities in Guyana, a country their Minister of Industry, Investment and Commerce, Aubyn Hill described as Jamaica's "natural economic hinterland."
Hill is leading the delegation of over 45 private sector companies, and five government entities from Jamaica. On January 24, the delegation engaged with top brass members from Guyana's government; the Finance Minister, Dr. Ashni Singh; the Public Works Minister, Juan Edghill; and the Minister of Tourism, Industry and Commerce, Oneidge Walrond to get better insight into Guyana's investment climate.
And from what was related, the Jamaicans are ready to establish a footing in Guyana.
Guyana aims to be top tier investment destination for oil, other industries – GCCI President | OilNOW
"I frankly know that most people have no idea of how Guyana is going to look in 357 years from now. It will be a completely different place. And so, I wanted the best of Jamaican businesses, information and communications technology, the best of Jamaican banks etc. to be here and ensure we are working with Guyana in partnership," Hill said on the sidelines of the engagement.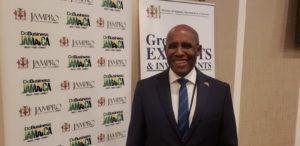 Among the list of companies, Hill said, are eight of Jamaica's biggest contractors who are eager to tap into Guyana's construction sector, that specialise in building roads, water systems, power systems to housing units, hospitals and schools.
More can be achieved through partnerships and mutually beneficial business relationships | OilNOW
The Jamaican Investment Minister was keen to point out that the delegation has no qualms with Guyana's policy on ensuring its citizens are equally represented in any investment partnership.
"I like the Guyanese [local] content arrangement for government contracts. I believe that citizens have particular rights and in a democracy, those must be met," he explained.
In that regard, Hill encouraged Jamaican businesses to seek partnerships with the locals.
"Do not look to own all of a little grape in a company. Look to own a big slice of a very big melon that Guyana is producing," he said.
Establishing partnerships has been Guyana's posturing to ensure Guyanese tap into its oil and gas sector since the creation of its local content law.
A main feature of the Local Content Act is the 40 schedules for services outlined to ensure Guyanese participation in the sector. And those areas include catering services, accounting and welding.
The Act was crafted to ensure that Guyanese companies are considered first and foremost to provide the services outlined. And for any foreign investor wanting to operate within those 40 areas, with preferential treatment in procurement awards, it would be required to partner with a Guyanese company with the Guyanese having 51% or more beneficial ownership among other critical factors.