Specialist market research and consultancy firm Westwood Global Energy Group says liquids production (crude, condensate and NGLs) is forecast at 100mmbpd by 2030, up 8% on 2022. This will be driven by increased crude production from deepwater areas, such as Brazil and Guyana, as well as additional supply from the Middle East.
The consultancy firm has also reported that substantial drilling activity, averaging 53,000 wells per year through 2030, will help elevate production of crude, condensate, natural gas and natural gas liquids (NGLs) to a high of 173mmboepd by 2030, up 9% from 159mmboepd in 2022.
These findings, forming part of Westwood's Wells & Production Outlook 2023-2030, indicate that 428,000 wells are expected to be drilled over the forecast, with onshore accounting for 95%, dominated by China, Russia and the US. Offshore, more than 17,000 surface wells are forecast, with activities driven by Qatar and Saudi Arabia, while 2,000 subsea wells are expected between 2023-2030, led by the Americas.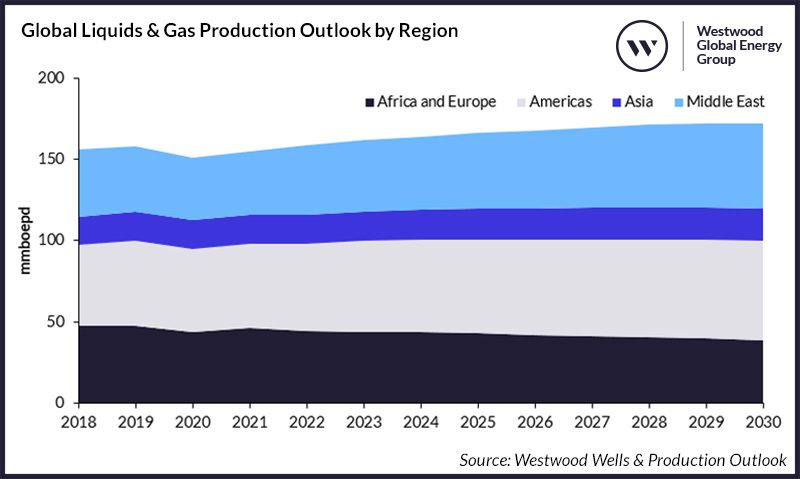 "Crucially, much of the basis for this supply has been sanctioned," Westwood said. "Between Brazil and Guyana 3mmbpd of floating production, storage and offloading (FPSO) capacity have passed final investment decision (FID) but are yet to commence commercial operations, while many of the major expansion projects in Saudi Arabia and the UAE have also been sanctioned, with construction underway."
ExxonMobil is about to start production at its third Guyana project – Payara – with two more – Yellowtail and Uaru – already sanctioned and a sixth – Whiptail – awaiting government approvals. These projects will take total production offshore the South American country to more than 1.3 million bpd by 2027.