The government of Guyana handed over instruments of appointment to persons identified to sit on critical bodies established for the management of Guyana's oil fund.
The ceremony occurred at the Office of the President in Georgetown, in the presence of the Prime Minister Mark Phillips, Vice President Dr. Bharrat Jagdeo and Senior Finance Minister Dr. Ashni Singh.
The Board of Directors of the Natural Resource Fund received their instruments from the President Dr. Mohamed Irfaan Ali to serve for two years.
Government had announced that the Chair of the Board would be Major General Joseph Singh, and that the other appointees would be Carolyn Rodrigues-Birkett, Dunstan Barrow and Ramesh Dookhoo. While the previous announcement indicated that David Lammy would be the fifth appointee, the government instead appointed Professor Compton Bourne.
Ali said with these members, the country should be very proud that citizens of their stature have been appointed, and that government fully supports them to execute their mandate with ease and efficiency.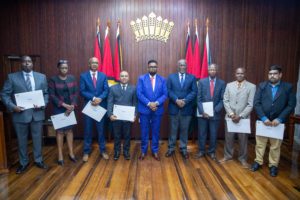 As for the Public Accountability and Oversight Committee, the Chairman is Clement Sealey. This Committee's members are to serve for a period of two years. It includes Wendell Jeffrey, Abu Zaman, Ryan Alexander, Dawn Gardener, Aslim Singh and Teni Houston.
Desmond Sears and Savitri Balbahadur are currently overseas and did not receive their instruments on Tuesday.
This Committee will also serve for two years.
The Finance Minister delivered the instruments of appointment to the Investment Committee. Shaleeza Shaw, Richard Rambarran and Michael Munroe.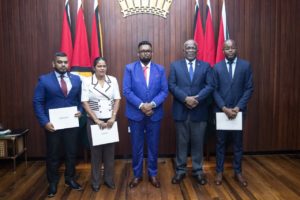 Lauris Hookumchand is currently overseas and did not receive her instrument at the ceremony.
The President said the Opposition was asked to nominate a member for this Committee, as the law dictates, but has not responded.
The Committee also requires two ex officio non-voting members – a senior investment advisor/analyst and a nominee of the Governor of the Central Bank of Guyana.
The Natural Resource Fund was overhauled in December last year, with provisions made for these committees and the board.
The Fund has received more than US$1.2 billion and expects billions of dollars in the coming years.
ExxonMobil intends to place six floating production vessels offshore Guyana by 2027, producing 1.2 million barrels per day.