Guyana has not yet scratched the surface when it comes to output at its vast offshore oilfields now under development by U.S. oil major ExxonMobil. In fact, of the more than 10 billion barrels of oil equivalent discovered so far at the Stabroek Block, less than 2 billion have been approved for development – Liza 1, 2 and Payara – with a fourth project at Yellowtail pending the greenlight from authorities this quarter.
But even when this, the largest project to date is approved, well over 7 billion barrels of oil resources will still remain in place for development, and this will increase as more discoveries are made.
"The unparalleled success of the Stabroek block has turned the once frontier basin into a hotbed of exploration in just five years," Norway-based Rystad Energy said. "During this period, explorers have become pickier when choosing exploration prospects with a stronger focus on chance of success, deliverability and costs – factors that all favor the up-and-coming basin as a core area for exploration and development globally."
The energy research and business intelligence company said the competitiveness of the Stabroek finds has enabled ExxonMobil to fast-track development, starting with its landmark Liza Phase 1 project in December 2019.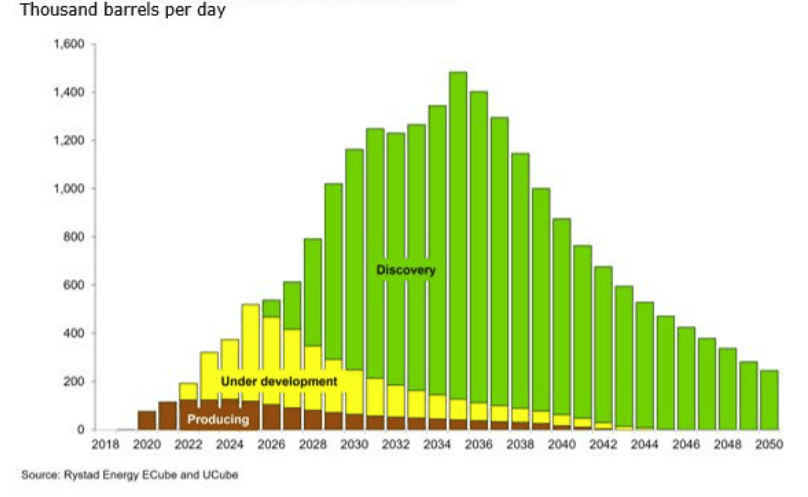 Output is set to ramp up with Liza phase 2 during the first half of 2022, followed by Payara/Pacora, for which a floating production, storage and offloading (FPSO) vessel is currently being constructed by SBM Offshore in Singapore.
Front-end engineering and design work is also being undertaken for an FPSO for the Yellowtail project, which is expected to be approved this year and start producing by 2025-26.
ExxonMobil's prolific Stabroek block now holds over 25 discoveries, with cumulative recoverable resources of over 10 billion barrels of oil.