Authorities in Guyana say the country is committed to supporting an aggressive exploration and production programme off of its coast since it sees revenues coming in from the oil and gas sector as playing a key role in the transformation of the South American nation.
And according to Norway-based Rystad Energy, that may very well be the case. But it isn't just the likely longevity of Guyana's oil industry that is striking. It is also that, while Guyana's production grows in the 2030s, most leading offshore deepwater producers will see their production levels wane.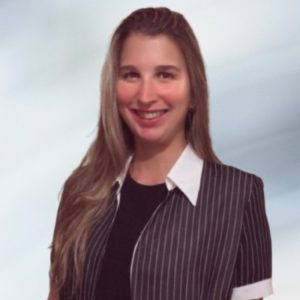 This is according to analysis from Sofia Forestieri, Latin America analyst for Rystad Energy, during the Caribbean Oil & Gas Virtual Summit last week.
During her presentation of the Caribbean oil & gas industry's competitive landscape, Forestieri compared the prospects of Guyana and Suriname to the leading deepwater producers around the world, including countries like Norway, the United Kingdom, Mexico and the United States.
She said, "As projects come online, we see Guyana and Suriname ramping up production in a very important, very successful way."
Guyana's deepwater development projects at the ExxonMobil-operated Stabroek Block will reach a combined capacity of 340,000 barrels of oil per day (bpd) this year.
Forestieri explains that by 2031, the country is expected to soar beyond one million barrels per day, already overtaking Norway and Angola to be the third largest deepwater producer in the world.
"By 2033, we see Guyana overcoming the US Gulf of Mexico's output and becoming the second largest deepwater crude producer in the world," the analyst said.
By then, Rystad Energy also projects that all but three deepwater producers will have production levels below a million barrels a day. In 2035, where the projection ends, Guyana is still shooting upward at about 1.7 million barrels per day.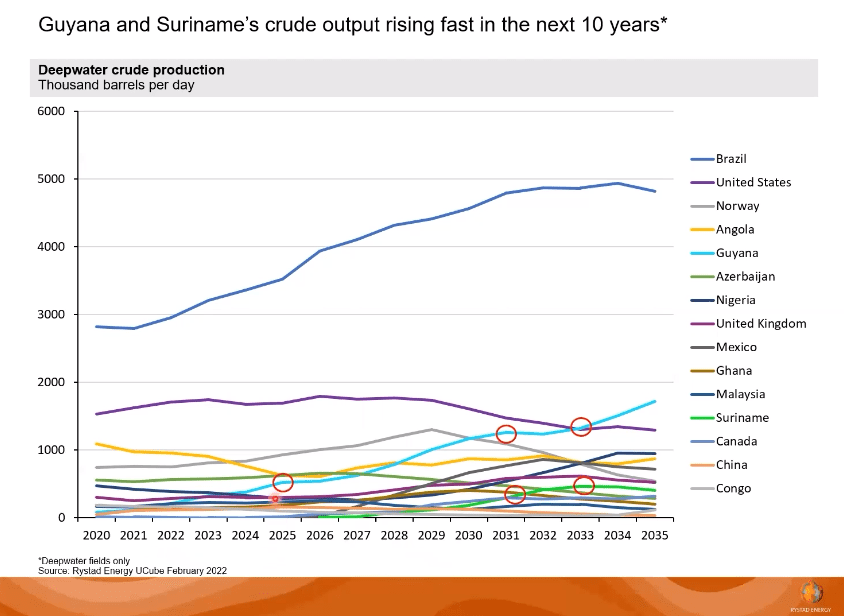 The only deepwater producer Rystad Energy expects to be above Guyana by then is Brazil, with close to 5 million barrels of oil per day.
Guyana's oil is set to outlast that of many other deepwater producers because of two main factors – quality and cost to produce.
Breakevens for the projects ExxonMobil has brought onstream are all between US$25 and US$35 per barrel. The crude blends encountered offshore Guyana are also among the lightest and sweetest in the world.
Guyana's Vice President Dr. Bharrat Jagdeo has repeatedly stated that the government intends for the country to produce oil in a net zero world. Even with the International Energy Agency's (IEA) net zero by 2050 scenario, Dr. Jagdeo argued that because there will still be a demand for oil, that is where Guyana comes in.
Exxon has so far received approval for three projects, two of which are already producing. Payara will come on stream in 2024. Yellowtail, which is currently under review, is expected to be approved soon and will come online by 2025.
Exxon also intends to apply for approval of the Uaru development, its fifth project in Guyana, later this year.
The company will have the capacity to produce 1.2 million barrels of oil per day at the Stabroek Block by 2027 and sees potential for up to 10 floating production, storage and offloading (FPSO) vessels offshore Guyana this decade.