As discussions continue in the public domain over the availability of jobs, the protection of local content and opportunities to be made available in Guyana's embryonic oil and gas sector, one of ExxonMobil's contractors is gearing up to commence another round of hiring in the South American country.
Guyana Shorebase Inc., (GYSBI) – currently under construction at Houston, East Bank Demerara (EBD) is the only majority locally owned company, to have secured a Tier 1 contract with ExxonMobil to provide shorebase services.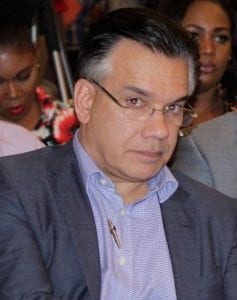 GYSBI Director, Lars Mangal, in an exclusive interview with OilNOW recently, divulged that works on the world class facility continues to move apace to the point where, "we anticipate that we may need to bring on probably another hundred to two hundred Guyanese people in the industry within the next twelve months because we are ramping up very quickly."
He told OilNOW, the shorebase company currently has in its employ "sixty Guyanese working, sixty people recruited in the team…starting from almost zero, six to eight months ago."
According to Mr. Mangal, the increase in the workforce is in keeping with the company's target for the timely completion of the shorebase facility.
"[Progress] is being accelerated and it's very exciting…of course, to be able to construct and operate the facility. So things are moving at a very fast track," he stated.
Responding to concerns that have been raised about the facility's preparedness for first oil in 2020, Mr. Mangal said he is confident that despite hurdles, works to the shorebase are on schedule.
According to Mr. Mangal, "Some of the challenges we face are moving fast enough and bringing in all the equipment that we need…But we are doing everything to expedite as fast as we can…local fabrication and bringing in the things…the heavy lifting equipment and the rest of it to support the facility. In fact, we have all the cranes now on the facility, the largest such in the country."
Speaking to the world class nature of the facility under construction at the Muneshwher's Wharf, Houston, EBD, he explained that "all the operations are run from an Integrated Logistics and Shorebase hub as much as you can make it. Of course there may be certain services that can be put in other areas but that's a function more of having the available space because very quickly we will see that we are over-utilised in terms of what we have available but there's a lot of room for expansion."
He told OilNOW, GYSBI is currently wholly dedicated to servicing ExxonMobil and its Tier I, II, III and IV service contractors.
GYSBI is a consortium of companies which includes Muneshwers Ltd., Pacific Rim Constructors, TotalTec Oilfield Services and LED Offshore.