Given the resource development model his government intends to roll out, President of Guyana, Dr. Mohamed Irfaan Ali, confidently asserted today that Guyana will no doubt emerge as the economic and energy epicentre of the Western Hemisphere.
The Head of State made this declaration during his address at the opening of the Guyana Basins Summit, a three-day event that brings together world-renowned experts to examine issues that are pertinent to Guyana and Suriname's growing oil and gas industries.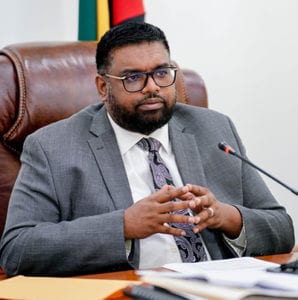 During his virtual attendance, the President shared that Guyana is destined to emerge as one of the most diversified regional economies, providing a treasure-trove of economic opportunities. He was keen to note that the country will be propelled not only by oil and gas but by other sectors including manufacturing, knowledge services, health services, digital technology, agriculture, tourism, and aquaculture. These sectors he articulated, will complement the traditional sectors that are being modernized and which will retain their role as economic mainstays.
He said that this dynamic transformation will be driven principally by the private sector while adding that local and foreign businesses, working in tandem and sometimes in partnership, will act as the main driver of economic output efficiency and competitiveness.
"Our intention is to work with local and international investors in every dimension of this economy so as to ensure thriving economic sectors over the next five years and beyond," the President asserted.
Even as his government pursues this, the President pointed out that the administration is mindful of its own role as a partner in national development.  In this regard, he said, "Our plans, as a government, stretch from large-scale agricultural investments and related projects to mega infrastructure which include bridges, a road to Brazil, a deep-water harbour, housing, communities and urban centres, port facilities and digital technology backed industrial parks and energy development."
"For a matter of fact, we have commenced discussions with Suriname, our neighbour, in the development of the energy corridor; Brazil, and French Guiana too will play important roles in that development, where we are going to develop one of the most competitive energy corridors along the Guyana shield."
Further to this, the President disclosed that a major catalyst for industrialization and catapulting Guyana into an energy leading role will be the planned gas-to-shore project. This initiative, which will bring gas from the ExxonMobil operated Stabroek Block, is expected to afford the Guyanese economy the opportunity to have an enhanced manufacturing sector and lower electricity costs. The President asserted that it will certainly allow Guyana to become an "industrial powerhouse, a model energy state, the breadbasket of the Region, the Silicon Valley of the Caribbean, and a sustainable tourism paradise."
Dr. Ali was keen to note as well that great care would be taken for the development of the local private sector, hence a draft local content policy and law are in the pipeline. The Head of State said the policy and law are not intended to be a disincentive to investment. Rather, it is aimed at spurring a stronger and more robust local business environment.
"We are committed to ensuring a model of development which provides benefits for present and future generations. We will not sacrifice long-term benefits for short-term gains. However, neither will we miss the opportunity to maximize gains, especially in instances where only a narrow window exists for such gains to be derived…," he said.
The Head of State noted that all of the above would be pursued but with an uncompromising approach towards ensuring citizens, especially the nation's workers, are respected. "We insist that the rights of our workers be respected and that investors comply with our labour laws," Dr. Ali added.
The President's opening statement which also focused on his government's broader development plans was followed by other presentations which included those of Minister of Natural Resources, Vickram Bharrat and Chief Executive Officer of Go-Invest, Dr. Peter Ramsaroop. Both officials echoed comments made by the President while reiterating that Guyana remains open for business.