Americas Market Intelligence (AMI) expects Guyana to benefit most from the rising oil price in 2022, compared to its neighbours in Latin America.
The Latin American business intelligence and research firm recently released its Latin America Energy Sector 2022: The Good, the Bad and the Ugly analysis.
The firm adjudged that the overall impact of higher energy prices will be negative for Argentina and Dominican Republic, and very negative for Chile and Peru. For five other countries – Mexico, Suriname, Ecuador, Venezuela and Panama – an assessment of the risks and benefits sees them getting a neutral rating. For Colombia and Costa Rica, they will see an overall positive impact, while Guyana and Brazil will see overall very positive impacts, according to the AMI assessment.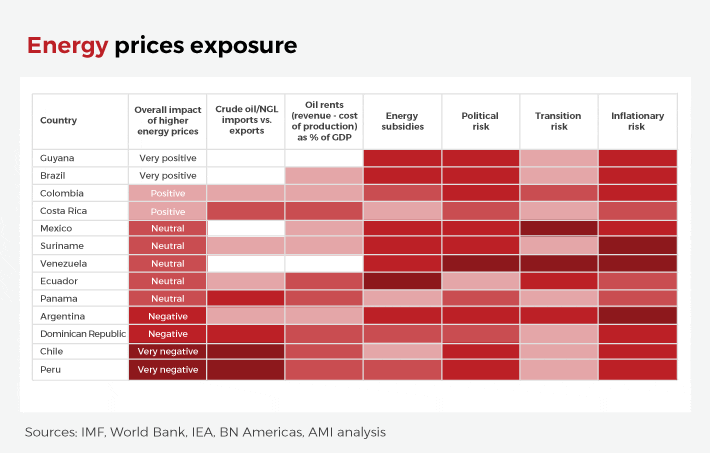 This is driven in Guyana by two offshore projects with combined nameplates of 340,000 barrels of oil per day.
The firm projected significant benefit for Guyana in the form of increased royalties. AMI also weighed the impact of crude oil and natural gas liquids imports and exports and has Guyana coming out on top in this regard.
Notably, Venezuela and Suriname will see benefit in these categories too, but a weighting of the risks, including political risks and high inflation, is what makes those countries' overall impact forecasts neutral.
Arthur Deakin, Co-Director of AMI's Energy Practice, said higher energy prices will lead to inflows in capital investment, government revenues and improving standards of living in several countries. But on the less encouraging end, Deakin expects the high prices to aggravate inflation at a time when the region is still struggling to recover from the economic fallout of the COVID-19 pandemic era.
AMI produces this report every year and said the 2022 forecasting lens was struck by a black swan event – the invasion of Ukraine by Russia.
Managing Director at AMI, John Price, said, "Why a war in eastern Europe could materially impact Latin America speaks to the breadth and depth of the global reaction to Russia's aggression."
Rystad Energy said on Tuesday that if the West bans Russian petroleum imports, oil could hit US$200 per barrel.