While a United Nations report, released last month, lobbies for countries to invest in renewable energy sources over natural gas, Guyanese stakeholders insist that the government remain steadfast in realising its agenda for a gas-led energy mix.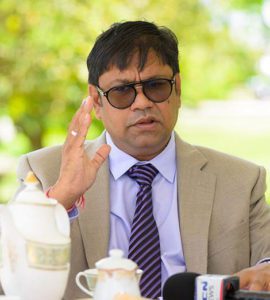 In fact, financial analyst, Sasenarine Singh said in a public letter that it would be reckless for Guyana to heed the instructions of the report and leave its gas in the ground.
Singh happens to be the Chief Executive Officer (CEO) of the Guyana Sugar Corporation (GuySuCo). Sugar is one of the sectors that the Guyana government expects to receive a boost when gas comes to shore, and electricity is sold to consumers at 50% of the current rate.
Delivering Guyana's biggest transformational project could exceed US$2 billion, economist says its worth it | OilNOW
Singh said history will prove that the same UN conveniently chose not to steer global powerhouses such as China, India, Europe, Australia and North America for too many decades away from their "climate-destructive, energy-development plans."
Singh said the Guyana government is now trying earnestly to break free from the environmentally destructive "Bunker C" power-generation systems by switching to natural gas. He said it is critical that this be done since no nation could achieve first-world status unless it has a low-cost, reliable, uninterrupted power supply. On this premise, he argued strongly for the Gas-to-Energy project to be supported by all.
To further cement his case, Singh said citizens should note that modern technology, higher-efficient natural gas power plants with low methane leakage rates have been proven to produce half the contribution to global warming compared to fossil fuel plants, such as those under the control of Guyana Power and Light (GPL), the state electricity producer. Thus, Singh said there are real and measurable potential climate benefits in replacing those low-efficiency "Bunker C " power plants with higher-efficiency natural gas plants, such as the one designed to be built at Wales.
"The bottom line is that our greenhouse gas (GHG) emissions will be slashed by almost half if we use natural gas at this time at a negligible cost," He said.
Gas project will cut Guyana's emissions for power generation in half | OilNOW
Singh further noted that the Wales-based Gas-to-Energy power plant will produce electricity at approximately US$0.05 per kWh.
"When you bolt on GPL's transmission, distribution, and administrative costs, the Guyanese public can benefit from a retail electricity cost at some US$0.14 per kWh. Compare that to the current price of electricity in Guyana, US$0.30 per kWh," he stated.
Importantly, Singh said citizens must bear in mind that the gas pipeline project will be funded as part of the developmental cost of the oil project. Thus, the cash flow implication for the national treasury is negligible; there are no loans and no diversion of funds from other sectors to fund it.
Singh said the fact remains that natural gas is the bridge fuel and is not the "be all and end all" of the energy- transition strategy for Guyana since the government is also pursuing major solar and hydro projects.
In light of the foregoing benefits and the transformation that is possible, Singh said any patriotic and progressive Guyanese would wholeheartedly support the Gas-to-Energy project.