The Government of Guyana sold its 5th oil cargo to Hess in February which saw the country being paid the highest sum to date for its exports, on par with the market price for crude at the time. The country received just over US$61 per barrel for that shipment – for a total of US$61,090,968.03 – representing 997,420 barrels of oil sold.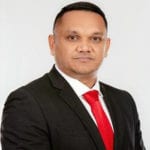 In response to questions from OilNOW on Wednesday, Minister of Natural Resources Vickram Bharrat confirmed that Guyana's 5th oil cargo was sold to Hess at market value. "We don't determine Hess buyers," Mr. Bharrat pointed out.
High Commissioner of India to Guyana, Dr K J Srinivasa recently indicated India is willing to purchase Guyana's share of Liza Crude at market value on an annual basis. However, no decision has yet been made by the Guyana government on such sales.
Inclusive of Royalties the total in Guyana's Natural Resources Fund Account now stands at US$267,668, 709.12.
The Ministry of Natural Resources affirmed that all crude lifts for Guyana follows a market process for transparency which allows for the country to achieve the best price for its sales.