The business community in Guyana was abuzz over the last two days as a 25-member trade delegation from neighbouring Trinidad & Tobago flocked to the country. The Trinidadians have been showing a keen interest in getting involved in Guyana's emerging oil and gas industry and have been lobbying strongly for opportunities, including the chance to refine Guyana's oil. While no final decision has yet been made by Guyana on an oil refinery, the Trinidadians are already looking at a multitude of other business opportunities.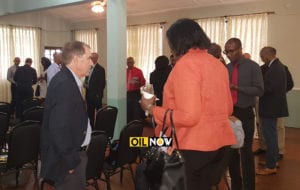 Following a meeting between members of the Trinidad delegation and Guyanese business community at the Roraima Duke Lodge in Georgetown on Tuesday, President of the Georgetown Chamber of Commerce and Industry (GCCI), Deodat Indar, told OilNOW the Guyanese business community would be open to a "buddying system" that allows for Trinidadian companies to link up with those in Guyana to pursue opportunities in the sector. "We are advocating strongly for a buddying system, whereby Trinidadian companies could find a working partner in Guyana, and by doing that, they will bring the Guyanese businesses in the loop and training and development can happen for that Guyanese company so that they can learn fast."
Mr. Indar said the transfer of knowledge from those with a wealth of experience in the field, is critical if Guyanese are to eventually acquire the skills needed in the industry. "We need to have a system where transfer of knowledge can happen at a private sector level…at an enterprise level."
Navin Seeterram, Trade and Business Development Manager of the Trinidad and Tobago Chamber of Industry and Commerce told OilNOW the delegation's visit to Guyana was to ensure they start off on the right footing which could lay the ground work for a healthy and productive business relationship with Guyana. "We are here for equity and we are here to partner, and to get the right start. We are here and we are exploring, and we have gotten strong feedback, and we very much respect that feedback. We are very much in-line with the vision they (Guyana business community) have also of how we start out."
Mr. Seeterram, who led the Trinidadian trade mission to Guyana, said there is also a "non-energy sector dynamic" that the Trinidadians believe they can play a role in and efforts will be made to explore opportunities in that regard.
The sentiments of Guyanese businesses and some sections of the public have been mixed regarding the growing interest of the Trinidadian business community in the South American country's emerging oil and gas industry. Some believe a lack of vigilance on the part of Guyana; a new-comer to the world of oil and gas, could see the aptly-skilled Trinidadians snapping up job and business opportunities in the sector, leaving Guyanese behind.
However, on the other hand, there is the realization among many in the country that for Guyanese to acquire the necessary skills and knowledge, partnering with companies and groups from oil and gas producing countries, such as Trinidad and Tobago, must be embraced.
Trinidad and Tobago has been involved in the petroleum sector for over one hundred years, undertaking considerable oil and gas exploration activity on land and in shallow water.