Guyana Shore Base Inc. (GYSBI) said eleven students drawn from eight regions across Guyana are the inaugural recipients of its new technical scholarship programme, which was launched in July.
The students are Venola Allen from Warapoka Village, Region One, and Nesa Griffith of St. Deny's Mission, Region Two, who will be pursuing a Diploma in Computer Science and a Diploma in Data Operations respectively at the Essequibo Technical Institute; Daniel Jacobs, Samara Ganesh, Compton Gomes, Jadan Whyte, and Shania De Groot, who will all be pursuing studies at the Government Technical Institute in the areas of Building and Civil Engineering (three persons), Land Surveying and Electrical Engineering, while Kerryann Johnson from Wisroc, Region Ten will be pursuing a Diploma in Welding and Fabrication at the Linden Technical Institute.
Vick Darbarrie of Crane Village, Region Three, who is studying at the Leonora Technical Institute, and Jacinth Wilson from Perseverance, Mahaicony, a student of the Mahaicony Technical Institute, both won scholarships to pursue Welding while Matthew Seepersaud from Nigg Settlement, Region Six, will be undertaking a Diploma in Electrical Engineering at the New Amsterdam Technical Institute.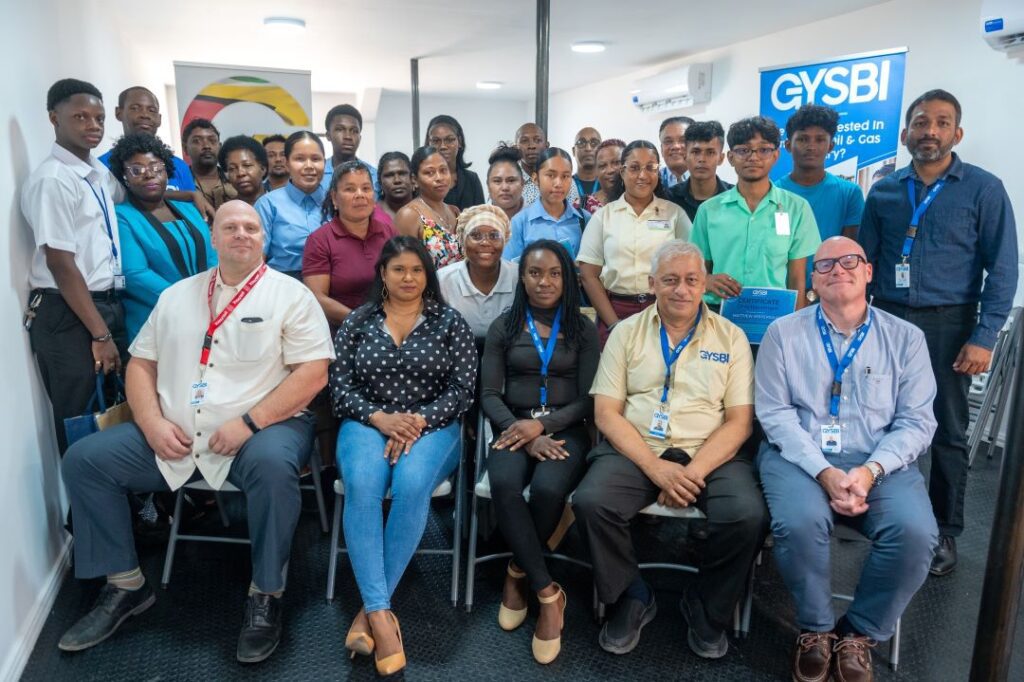 GYSBI said three of the 11 scholars are children of its staff members, who applied and met the criteria.
The company held a ceremony to hand over the first tranche of financial support, Executive Director of GYSBI, Robin Muneshwer congratulated the awardees, who were chosen out of a total of 300 applicants. He said GYSBI believes in investing in local citizens so they can be equipped to be part of the new Guyana.
"We talk about investing in the future or investing in our youth and that is what we are doing here today. You are our investment. Guyana is becoming the place to be. It is the fastest growing economy in the world and you guys are coming in at the right time. At the ages that you are currently, you will be the ones to see Guyana grow from what is essentially a third world poor country to a country that will be, hopefully, with high standards. You will be part of that growth and you will witness the transformation of this country. That is an incredible opportunity for you," Muneshwer said.
The Executive Director added that the company does not focus on just providing a job but rather wants to ensure that careers are created and nurtured within the working environment. As such, he encouraged the awardees to see the opportunity provided to them in that light.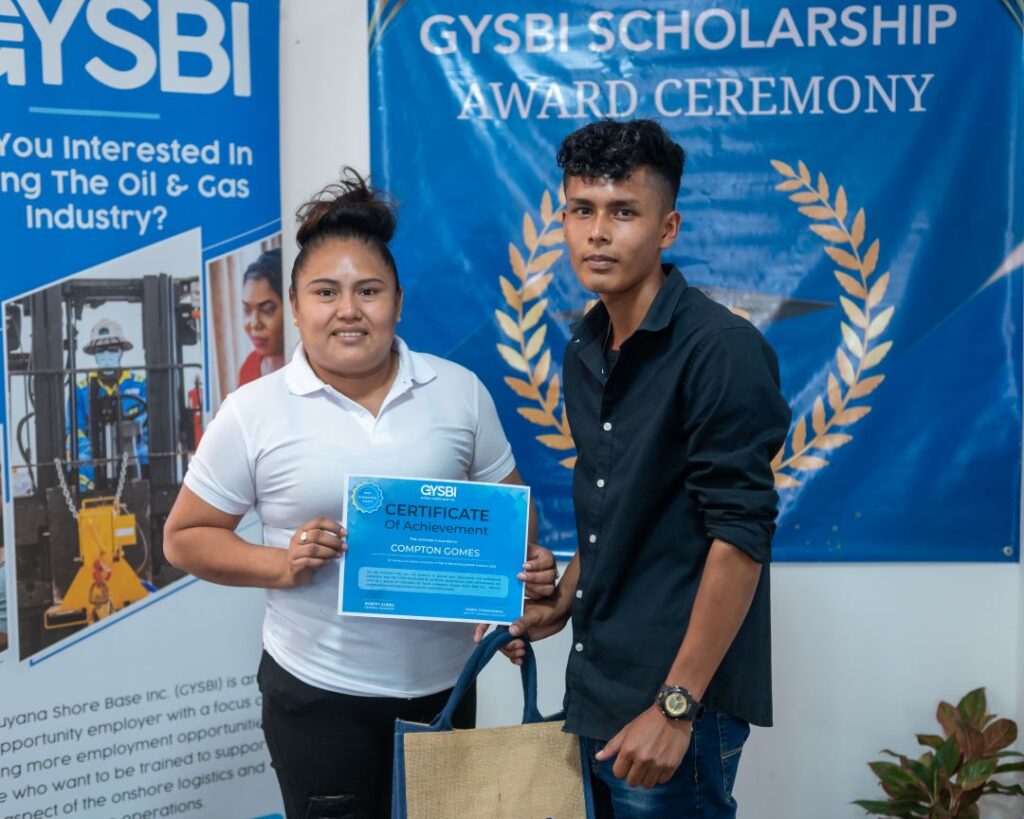 "I want to tell you that at GYSBI, we do not start jobs, we start careers. That is what you will be doing here, starting your career. You are going to these Institutes, but these Institutes will not be able to teach you everything. The discipline that you place on your work, your attitude, the pride that you get out of your work, there is no dollar figure to that. That must come from within. The money will follow you, don't worry about that. It's what you translate your talent into that will count. That is your intrinsic ability that no training can do," he urged.
Rabin Chandarpal, GYSBI's Deputy General Manager said, as Guyana continues to rise and opportunities are being created, avenues must exist for Guyanese, especially the young citizens, to benefit. This is the first step, he noted, in ensuring that this is made possible. The onus, therefore, is on the awardees to make full use of the opportunities that are being presented, he said.
"Education in an investment you make in yourselves. You will be supported by us with financial support of course, but also through this internship programme, you are also going to learn what we pride ourselves on at the shore base – our work ethics, values, discipline. While you are a part of our team, keep reaching out to us because we want to mentor you and help to prepare you for the opportunities that are available in Guyana. Do not waste this opportunity, grab it with both hands, be curious, be hard working and the future will be yours. Guyana is going places so don't be watchers or bystanders, be part of it, be beneficiaries of it and your future will be bright," Chandarpal advised.
Guyanese contractors needed to help expand country's largest shorebase operation | OilNOW
Meanwhile, General Manager of GYSBI, Robert Albiez said he is extremely proud of the initiative.
"I remember this was just an idea that we had a couple years ago and thanks to the hard work of our team, we have been able to pull this off today. This is something we are absolutely proud to do, to start this initiative and my hope is that this becomes a great thing that will long outlast my time at GYSBI and even the rest of the group here," he shared.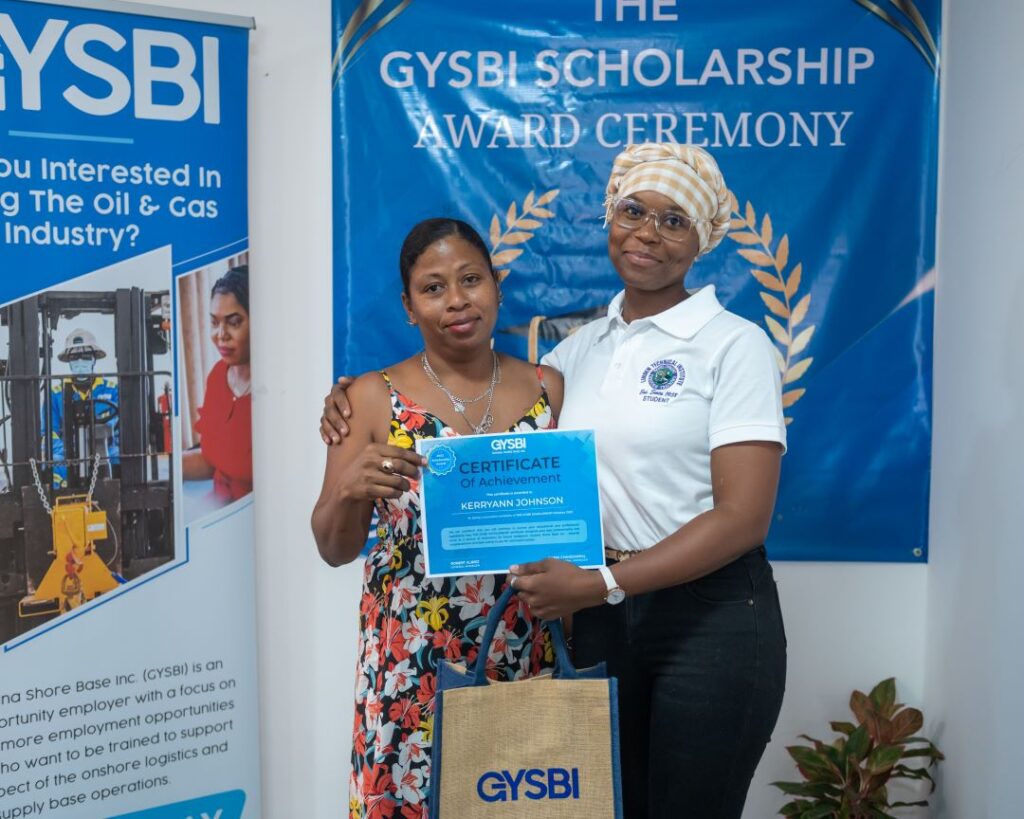 Kevin Black, who serves as the Operations Manager, noted that over the five years he has been at the company, there has been tremendous growth and development, which have been complemented by large investments in the young members of staff. He urged the awardees to take full advantage of the opportunity they have been provided as there are vast possibilities that exist for them at the shore base.
Compton Gomes who hails from Paramakatoi, Region Eight, shared that as a student from a rural indigenous community with poor and limited infrastructure, he was motivated to pursue Building and Civil Engineering at the Georgetown Technical Institute so that he can become qualified to advance not only himself, but return to serve his community as well.
"It is my wish to give back to my community in the planning, designing and construction of projects such as much needed roads but regardless of what projects I find myself working on in the future, it would give me great pleasure to contribute to national development at such a crucial time in Guyana's history. My parents, like most in my rural village, are of limited means and could not afford my studies so I see this scholarship as a big relief," he said.
Kerryann Johnson, who is a young female student in the Welding Programme at the Linden Technical Institute, was visibly elated as she noted that, "the morning I was called and told that I was selected as a recipient, I was and still is overwhelmed with joy. I am so pleased and will forever be grateful for this opportunity given by GYSBI. I am very passionate about becoming one of Guyana's best female welders and GYSBI has given me the chance to gain more knowledge and experience to be the best within this field."
The GYSBI Technical Scholarship initiative, which was launched for the first time this year, will cover expenses such as travel, uniforms, study materials, registration, and examination fees for all awardees.
The programme is also designed to offer internships to successful applicants during their semester breaks so that they can gain valuable hands-on training and knowledge transfer. At the end of their studies, they can also benefit from the opportunity to be fully employed with the company.