The International Energy Agency (IEA) said in its latest World Energy Outlook (WEO) 2021 report that under its base case 'Stated Policies' (STEPS) scenario, global oil demand exceeds 2019 levels by 2023 then levels off at 104 million b/d in the mid-2030s before declining very gradually to 2050. Emerging producer Guyana was named among those expected to increase production this decade, adding barrels to fill the supply gap, as the world braces for potential energy price volatility in the coming years if investments do not pick up.
"There is a looming risk of more turbulence for global energy markets," IEA Executive Director Fatih Birol said. "We are not investing enough to meet for future energy needs, and the uncertainties are setting the stage for a volatile period ahead."
The IEA also introduced its new Announced Pledges Scenario (APS) in the WEO 2021, capturing countries which have put new commitments on the table, detailing their contributions to the global effort to reach climate goals.
In the STEPS, tight oil operators choose to prioritise returns over aggressive production growth, even as annual average prices rise to 2030. Tight oil production satisfies around 20% of global oil demand growth between 2020 and 2030 (compared with the 2010-2019 period when it provided 70%). Total oil production in the United States rises by around 3.5 mb/d to 2030 (reaching 20 mb/d in 2030) while Canadian production increases by 0.7 mb/d as long lead time projects approved for development in the mid-2010s start to ramp up.
"Brazil maintains deep water production levels through the 2020s, while emerging producers, including Guyana and Senegal, increase production by around 1 mb/d between 2020 and 2030," the IEA said.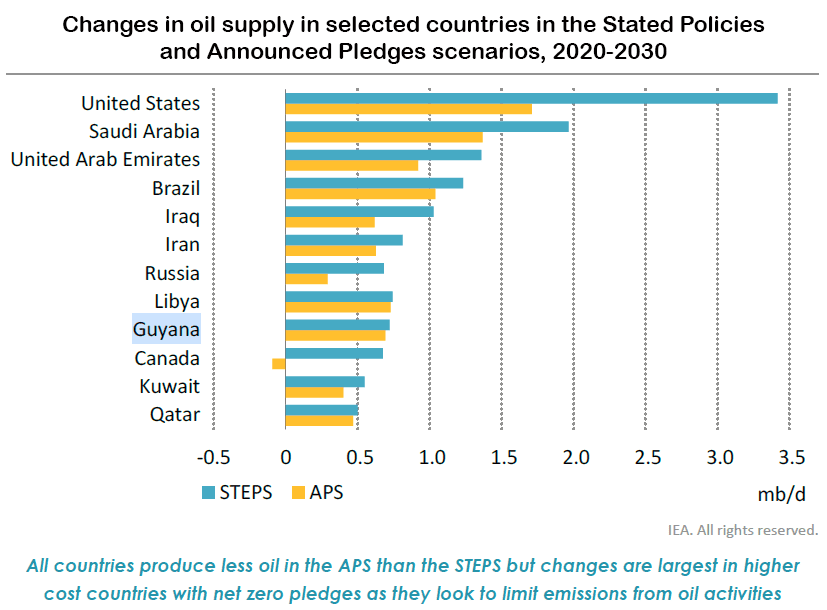 Meanwhile, Organization of the Petroleum Exporting Countries (OPEC) production increases by around 6 mb/d to 2030, with Iraq, Iran and Kuwait providing over 40% of this growth as new fields come online and production increases at existing fields. OPEC and Russia together provide 48% of total oil production in 2030, an increase from 2020, but well below their share during much of the last decade.
Guyana's output will be buoyed by major development projects at its vast oil fields, located primarily at the massive Stabroek Block where U.S. oil major, ExxonMobil is operator. The company has made over 22 discoveries at Stabroek since 2015 and recently increased the resource estimate for the block to 10 billion barrels of oil equivalent.
Compared to previous IEA reports, oil demand in the STEPS scenario starts to decline in the 2030s for the first time as a result of more muted growth in petrochemicals and a faster switch to renewables energy.
"Lower oil demand in the APS relative to the STEPS reflects reduced oil use in uses such as road passenger transport, petrochemicals, heavy trucks, aviation and shipping, but the reductions in the APS pale by comparison with what is needed in the net-zero scenario." the IEA said.
A year ago, the IEA predicted oil demand would flatline above 100 million b/d rather than peak in the coming two decades, forecasting consumption would rise from 97.9 million b/d in 2019 to 104.1 million b/d in 2040.