A new Environmental Impact Assessment (EIA) published by Guyana's Environmental Protection Agency (EPA) has confirmed that even with ExxonMobil's aggressive development plans, the country's carbon sink status would remain.
Basically, Guyana's forests remove a lot more greenhouse gas (GHG) emissions from the atmosphere than all combined activities in the country emit. Some activists claim that ExxonMobil's activities offshore Guyana constitute a carbon bomb. But this study by Acorn International shows that the oil major's emissions will produce less than a tenth of the emissions that the forests capture. This means Guyana will stay a carbon sink, even when Exxon's Stabroek Block emissions peak. 
Acorn completed the EIA as part of the EPA's environmental authorisation process for the US$12.7 billion Uaru project. With discourse on the potential impact of expanded petroleum operations offshore Guyana, the regulator urged Exxon to ensure its studies consider the cumulative impact of all its planned offshore operations.
ExxonMobil Guyana's planned operations and other sources of emissions in Guyana are estimated to amount to 13 million tonnes per year (tonnes/yr) of carbon dioxide equivalents (CO2e). To arrive at this number, Acorn considered Exxon's exploration drilling plans through 2030 and seven operating development projects by 2029. 
On the other hand, Guyana's forests capture and store 154 million tonnes of GHG emissions annually.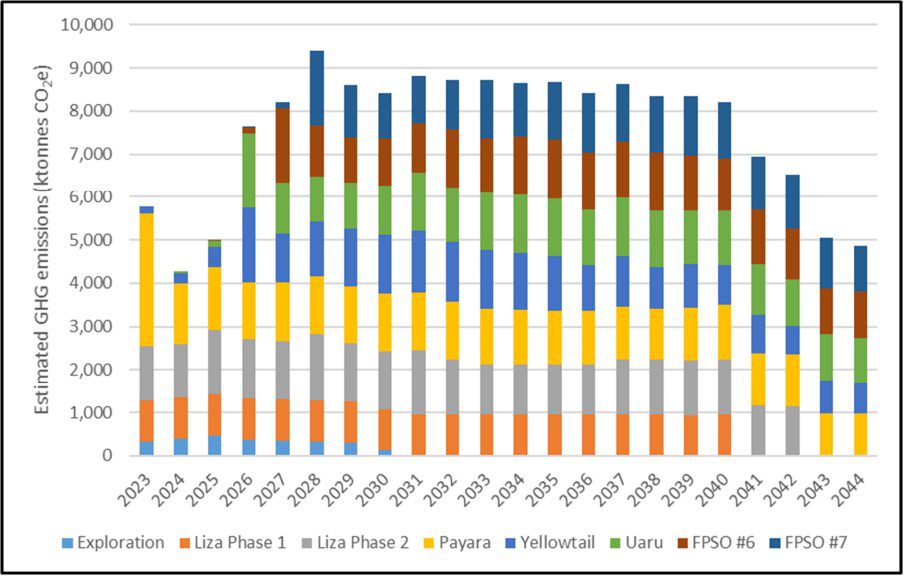 Stabroek Block projects can be considered a global envy for several reasons, including that they have low emissions intensity compared to most other projects. Rystad Energy said in a 2022 study that deepwater has lower emissions, on average, than about 60% of other sources of global oil and gas production. Guyana's offshore production emissions intensity is lower than the deepwater average. The global upstream emissions intensity average is 18 kilograms of carbon dioxide per barrel of oil equivalent (kg CO2e/boe), while Exxon's Guyana projects are at 9 kg CO2e/boe.
The major has already set its sights on its seventh Guyana project, which would take production offshore Guyana offshore 1.2 million barrels of oil per day (bpd).
Guyana needs 10 FPSOs; renegotiation would kill the momentum – Dr. Jagdeo | OilNOW
The government has received flack for encouraging ExxonMobil to expand oil production offshore Guyana, amid claims that it is authorising a carbon bomb. Vice President Dr. Bharrat Jagdeo has said that 10 floating production, storage, and offloading (FPSO) vessels operating offshore Guyana would not reverse Guyana's net carbon sink status.
Acorn's study validates the government's statements, but also indicates leverage remains for expanded petroleum operations outside of the Stabroek Block. In addition to the blocks already licensed, the government expects to award licenses for as many as 14 more this year.