While Guyana's offshore oil and gas industry rapidly expands, infrastructure will have to be developed onshore to support the activities in the industry. Participants at the Guyana Basins Summit were told this week that the Guyana government is pursuing a number of projects in this regard.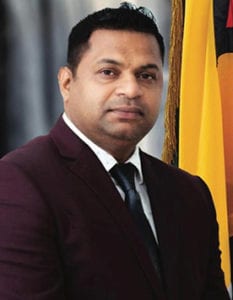 "We intend to build out the onshore infrastructure to support the offshore operation," Minister within the Ministry of Public Works, Deodat Indar said in a presentation on Friday.
He went on to outline several initiatives that have already commenced which are aligned with this objective.
Guyana has seen an increasing number of visitors since 2015 and this is expected to skyrocket in the coming years as the economy expands fueled by the offshore oil and gas operations.
Mr. Indar said the government is keen on ensuring that Guyana has modern hotel and accommodation facilities.
"We need to ensure that the hotels and all of the rest of amenities that are needed for crews coming on and going off to the offshore vessels and the FPSOs, drill ships and so on; that we have those built out and we have the capacity." He noted that thus far, 16 Memorandums of Understanding have been signed with the Guyana Office for Investment for the development of hotels from the well-known hotel chains.
"So, the hotels that they're going to build out, they're going to transform the city areas so that we can be able to provide proper accommodation for our people of all classes," he added.
Additionally, he outlined plans to form a massive roadway connection system that will see carriageways linking Brazil and Berbice. The Minister also indicated that the Government is focused on the growing need for shore base facilities to service the rapidly expanding offshore operations.
"We have been receiving a number of prospects for our shore base facilities. As you know Guyana has only two—one major one and a sized down version of a shore base. We need more to service offshore development. So, we have a lot of interest for those," he told the virtual gathering.
Just recently, Mr. Indar pointed out that government has commenced discussions on the much-anticipated deepwater harbour being developed in Berbice by an oil and gas operator.  He disclosed that these discussions have been ongoing among high level government officials, including the President.