A number of international experts in oil and gas exploration and production are lending their voices in the conversation of safeguarding Guyana from oil spills and other negative environmental impacts, as the South American nation moves closer to its 2020 production timeline.
The two-day Hunt Petty LP Conference on Enhancing Offshore Exploration and Production Regional Capacity: Operational and Environmental Safeguards, got underway at the Guyana Marriott Hotel on Monday. The focus was largely on oil spill prevention and management.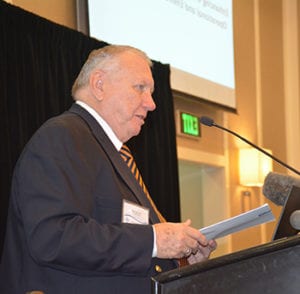 Dr. Lee Hunt, General Partner at Hunt Petty LP divulged that the conference was birthed as a result of discussions with Guyana's Ambassador to the United States, Dr. Riyad Insanally, and the Director of Guyana's Department of Energy, Dr. Mark Bynoe. Dr. Hunt explained that they "thought it beneficial to address some of the elements, critical issues and enhancing the capacity of Guyana and the regional countries in the south Caribbean to support environmentally and operationally safe development of the new oilfields."
He went on to say that the greatest anxiety expressed over any drilling operations is the potential for an oil spill. However, he says there are many robust resources to prevent that from happening.
Meanwhile, Dr. Bynoe in addressing the gathering stated that there is a responsibility to manage Guyana's oil resources for current and future generations in an environmentally friendly and efficient manner. He continued to note that oil operations are occurring in a diverse range of habitats and eco-systems, and these operations have the potential—if not managed carefully and effectively—to place significant pressures on Guyana's marine and coastal environments and the inhabitants that depend on these for their livelihoods.
According to the energy official, oil and gas companies need to "develop and inculcate a risk management system and ethos, and operational practices to minimize harmful environmental impacts." This, he continued, can be achieved by embedding environmental concerns into all aspects of daily operations.
Oil and gas operations often threaten very delicate habitats, he said, which often result in biodiversity loss, coastal pollution and produce harmful air emissions, and as such, the emphasis needs to be placed on preventative measures, rather than alleviating.
Similar sentiments were expressed by Executive Director of the Environmental Protection Agency (EPA) Dr. Vincent Adams who said incidents such as oil spills result from safety failures which result in environmental damages and losses. He stressed that strong oversight is needed, where safety is a priority.
Also addressing the conference was Desk Officer of the U.S Department of State for Guyana, Suriname, and Trinidad and Tobago, Mr. Seth Wilkas who spoke of the United States' commitment to assisting with disaster response in the region and developing oil spill response tactics and framework.
Among the other speakers were Senior Scientist at CSA Ocean Sciences, Inc. Dr. Jodi Harney and Wells Technical Interface Manager at ExxonMobil, Brandee Elieff.
The conference was organized by Hunt Petty LP, an international consultancy and advisory firm which is headed by Dr. Lee Hunt and Brian T. Petty. Dr. Hunt has been described as a leading industry advocate for drilling safety, regulatory and governmental relations, and he directed the first US oil field upstream/service industry mission to Cuba in 2010. Since then he has supported the multilateral workshops involving the US, Cuba, Mexico, the Bahamas and Jamaica that have resulted in a Multilateral Technical Operations Procedures plan (MTOP) for government-to-government communications in an oil spill event.
Meanwhile, Mr. Petty served as Executive Vice President for Global Government Affairs for the International Association of Drilling Contractors and has served in Washington as the State of Texas Energy Counsel.