As the Government of Guyana pushes ahead with the planning and groundwork for the US$900 million gas–to–energy project, Chief Executive Officer of the Guyana Office for Investment (GO-Invest), Dr. Peter Ramsaroop, says the agency is welcoming investors who can create newer industries and offer greater manufacturing outputs with the anticipated lower energy costs.
Dr. Ramsaroop, in an interview with the Department of Public Information, said through his office, investors have been enquiring about non-traditional industrial activities such as glassmaking, manufacturing and agro- processing. These activities require large amounts of reliable electricity. As a result of the planned gas–to-energy project, he noted that investors are now tailoring their plans to bring these industries on stream.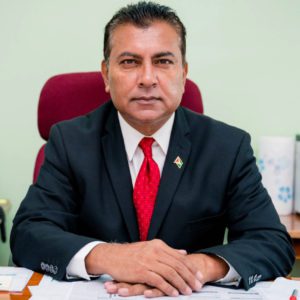 "This project is going to help us to open up areas that we have never been able to open up. We would not need to import milk like we currently do. If we are able to bring down energy costs, then we can produce that milk at a cheaper price. You bring that down and you never have to import those products again. Investors come in and some of them want to do large scale operations," he said
He continued, "We have had people come in and talk about a glass factory. We have the best silica sand in this part of the region but you need cheaper energy to do that so those investors, knowing that cheaper energy will be available in Guyana in about two and a half years, will start planning out those types of investments."
The GO-Invest CEO noted that the project is not only about producing cheaper electricity but also speaks to larger areas such as job and wealth creation, industrialisation and the making of a modern Guyana that is on par with its regional and international counterparts.
"It changes our landscape, it changes our wealth. It is not just creation of jobs but also creation of wealth," he said. "Ultimately, our energy costs are higher than any other part of the region. On an average, a consumer pays US$0.32 a kilowatt. In Trinidad, it's about US$0.12. When you look at the future of energy costs, through an integrated energy approach, Guyana will change. If it is costing me $1000 to do a bottle of pepper sauce in Trinidad, and it is costing me $2000 to do a bottle of pepper sauce in Guyana then I could never compete."
He said "it is almost criminal" to try to stop a project that makes a difference, from an economic, consumer and from an investment standpoint, from moving forward. Dr. Ramsaroop was referencing calls by some in the South American country for the project to be halted.
He added that President Dr. Mohamed Irfaan Ali's vision of cheaper energy doesn't just stop with the provision of reliable and cost-effective energy but is also tied to the transformational projects, which are on the cards to modernise Guyana's landscape.
"The President has tied this gas–to-energy project into a larger infrastructural plan that is in place and that includes the deep-water harbour, the road to Brazil, the bridge between Guyana and Suriname, all of these things make the project feasible and possible," he added.
Meanwhile, businessman, Nicholas Deygoo-Boyer, said that from his perspective, the project is welcomed by stakeholders within the business environment since it will make a great difference in the way business is done in Guyana.
Deygoo-Boyer, who served as President of the Georgetown Chamber of Commerce and Industry and Chairman of the Private Sector Commission, noted that competition and expansion activities have been hindered for years, owing to the burdensome cost of energy and production.
"The gas–to–energy project is a very important project in the context of Guyana's development. Any project that brings down the cost of energy, which the private sector has always identified as a huge barrier to its competitiveness, is one that the private sector would support," he said.
Deygoo-Boyer pointed out that the high cost of power is an incredible barrier to manufacturing and to development in general. He said cheaper electricity could also mean a greater disposable income. "Based on our understanding, based on the cost of construction and implementation for the pipeline and the powerplant and the cost we are expecting as consumers, we feel that the pipeline is something that is a must," he said.
The project, which is to be located within the Wales Development Zone, West Bank Demerara, is expected to see the construction of a 220km offshore 12-inch pipeline from the Liza Phases 1 and 2 floating production, storage, and offloading (FPSO) vessels, the Liza Destiny and Liza Unity. That pipeline would extend to La Jalousie/Nouvelle Flanders, West Coast Demerara. There is also a provision for an onshore 12-inch pipeline, approximately 27km long, commencing North of the proposed NGL plant site and extending through and near several villages along the West Coast of Demerara and the West Bank of Demerara, until it meets the offshore pipeline.
ExxonMobil's local affiliate, Esso Exploration and Production Guyana Limited (EEPGL) says a minimum of 50 million standard cubic feet of gas per day (mmscfd) will be transported through the pipeline by 2024.