The first photo to hit Facebook was of the vehicle being lifted off a ship and onto a wharf in Georgetown – a sleek, black Model Y Tesla – the first of its kind on Guyana's shores and a symbol of the future of automotives.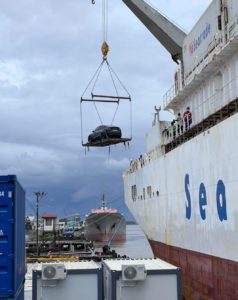 A businessman, Samuel Chandool, flashed photos of the electric vehicle (EV) and uploaded it to a Facebook page he created, called 'TeslaGuy_GY'.
"Can we allow Guyana to lead the way when it comes to electric vehicles?" 'Tesla Guy' Chandool posted in April. "The world is headed in that direction."
The businessman said he set out to show Guyanese drivers the merits of EVs. With value to the energy transition, EVs, like the Tesla Y, can significantly reduce environmentally harmful emissions when compared to traditional vehicles. But what drew more excitement to Chandool's cause were the exceptional cost savings he observed while driving his Tesla around Guyana.
At speeds ranging from 77 to 100 kilometres per hour (kmph), the car was driven 375 km (233 miles) on 60 kilowatt-hours (kWh). At Guyana's consumer electricity rate, this cost just GY$2,605 (US$12.50) or GY$7 per km.
According to an Inter-American Development Bank (IDB) project brief, more than 100,000 new vehicles were registered in Guyana in the last five years. But the Guyana Energy Agency (GEA) said that at April 2022, only about 116 EVs were driving the streets. It is unsurprising that this number is so infinitesimal in portion.
Not everyone can afford a Tesla. And most of the more affordable EVs are not competitively priced when compared to traditional vehicles fueled by petrochemicals. The government knows this.
"International experience suggests that rapid reduction in vehicle pricing to a level that would be affordable in Guyana could happen from 2028 or shortly thereafter," it is stated in the administration's Low Carbon Development Strategy (LCDS), a document to guide Guyana's sustainable growth through 2030.
In the meantime, a special tax regime has been instituted for EV imports, according to a brochure from the tax administrator, Guyana Revenue Authority (GRA). The importation of conventional vehicles is subject to high customs duties and excise taxes. Because of these high taxes on conventional vehicles and because vehicle costs are generally out of reach for the wider Guyanese populace, it is typical for automotive dealers to offer used vehicles that are a decade old.
With the incentive regime for EVs, those that are four to eight years old attract no customs duties, excise taxes or value-added tax (VAT), while those less than four years attract a 14% VAT. On the other hand, fuel-powered cars of four or more years attract excise taxes with rates dependent on engine capacity. Newer fuel-powered cars attract a 45% customs duty, 14% VAT, and excise tax as high as 140%.
The government has acknowledged that even with these policies, large-scale deployment of EVs is still not feasible. Therefore, it is also encouraging "lower carbon forms of transportation", the LCDS states. Taxes have been lowered for liquefied petroleum gas (LPG) vehicles (which typically emit less) and hybrid vehicles (which are more energy efficient), depending on engine capacity, the strategy notes. Duty exemptions are also applicable for LPG conversion kits, so drivers can configure their existing vehicles to be fueled with LPG.
To start building out the infrastructure to support EV uptake, government launched a pilot project for the supply of six charging ports to be placed across the Atlantic coast, where most of Guyana's population resides. The procurement process was executed this year, with Flash Motors Company Limited of Jamaica being selected for the job. Chief Executive Officer of the GEA, Dr. Mahender Sharma, expects the units to be in country by February 2023 based on the manufacturing cycle.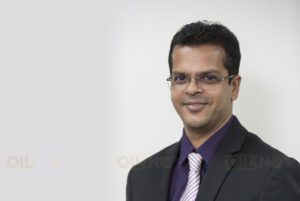 "We believe that the installation of the public EV charging stations will act as a catalyst for private sector interest while providing assurance to current and prospective EV owners that there are re-charging facilities available," Dr. Sharma said.
The GEA expects this to address concerns associated with range anxiety – the fear that a vehicle will not have enough power to complete its journey, and a barrier to EV uptake.
To build capacity, the GEA, with support from the IDB, held a week-long workshop in July so mechanics and auto-technicians can learn about EV upkeep from the electric vehicle company, Megapower Limited, and UK-based trainer, Stephen Burr, who is a specialist in delivering EV and hybrid vehicle training to the automotive retail industry.
And in September, the GEA conducted a sensitisation webinar with car importers, banks, the University of Guyana, and the Council for Technical and Vocational Education Training (TVET). This was held so they could learn from EV owners in the Latin America and Caribbean (LAC) region about their perspectives and experiences undertaking this transition.
While meetings like these are important for learning, the GEA determined that it was also important to lead by example. So, in 2019, the agency procured a Nissan Leaf 2019 which, as much as possible, is set to charge on weekends using solar power. Dr. Sharma said the car only needs to be charged once per week, based on the distances he drives.
Documents shared by Dr. Sharma indicate that the fully electric car has a 40-kWh traction battery capable of covering 160 miles (257 km) on a single charge. This works out to about GY$9.81 per km, if power is purchased entirely from the state electricity provider, Guyana Power & Light (GPL) Inc. The car was supplied with a fast charger that was installed at the GEA's office in Georgetown.
The vehicle was purchased at a price of GY$10.6 million (approximately US$50,000), inclusive of 14% VAT. A vehicle with a price tag of this scale is not typical for most Guyanese to pursue. So, dealers will sell cars that are several years older.
Discussions with two popular automotive dealers, BM Soat and Beharry Automotives, buttress the government's assumption that it is too early for widespread importation of EVs.
Kiran Ramkoomar is the Assistant Manager of Sales for Beharry Automotives, and he describes interest in electric vehicles as "minimal". Less than 1% of inquiries made to Beharry Automotives are about EVs. While the dealer would import Toyota-branded hybrid vehicles for sale, Ramkoomar said Beharry does not import fully electric vehicles.
Similar comments were made by Manager at BM Soat, Vijai Singh. While the dealer has never sold and typically does not import EVs, Singh said BM Soat is open to importing an EV by request.
For both Ramkoomar and Singh, it just isn't economically feasible to import EVs in bulk. These dealers take issue with the fact that there aren't public charging stations available yet and will likely wait years more to place their focus on the EV market.
On the other hand, Mahendra Samaroo, owner of MS Trading, says EVs are the better option. As a popular EV dealer, Samaroo told OilNOW that 10% of MS Trading's offerings are EVs.
One of Samaroo's popular offerings is the Nissan Leaf (like the GEA's), but the models on offer are much older (2011-2013). They also cost over five times less, in the GY$1.4 million-GY$1.8 million range. At these rates, this car may be the most affordable at any dealer in the country. And this is thanks to the government's incentive regime for EVs.
Samaroo said people will have concerns about the feasibility of electric vehicles, but that is because they are not knowledgeable about the benefits. While his colleagues at BM Soat and Beharry are concerned about a lack of public charging infrastructure, Samaroo said that his company will install charging stations in customers' homes if they purchase the Nissan Leaf and provide general maintenance functions. Samaroo himself had for three years now, gotten his first EV, a Nissan Leaf. And from his experience, it and other EVs on offer are durable and efficient, with low maintenance and operating costs. He said that when it comes to cost of power, for example, a Nissan Leaf will run on GY$7-GY$8 per km. Samaroo, like Chandool, is working to be a pioneer for EV uptake in Guyana.
The businessman expects the low cost to go even lower when government's plans to decrease the cost of power go into effect. Guyanese typically pay US$0.32/kWh, a cost that is considered high in the region. But two major projects are in play for the next few years. Guyana is pursuing a Gas-to-Energy project, which involves a pipeline that will transport gas from an offshore field being operated by ExxonMobil, to an onshore 300 megawatts (MW) natural gas power plant.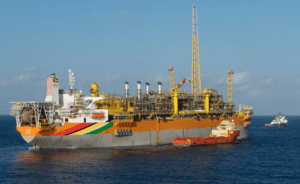 Set to come into play by 2024, the government said it will immediately slash electricity rates by at least 50%. Natural gas is a fossil fuel. However, the government says it only intends to use gas as a transition fuel, while it gathers renewable energy projects to clean up its energy transition. In the meantime, the introduction of the Gas-to-Energy project is expected to cut down emissions associated with electricity in Guyana, since electricity is almost entirely produced from the more polluting heavy fuel oil (HFO). Further gains are expected in emissions and cost reductions when a massive hydropower plant is erected at the remote Amaila Falls to generate 165 MW of hydropower to Guyana's main grid, several years after Gas-to-Energy.
Dr. Sharma said these projects will incentivise EV uptake in Guyana.
This story was published with the support of Climate Tracker's Caribbean Energy Transition Journalism Fellowship.