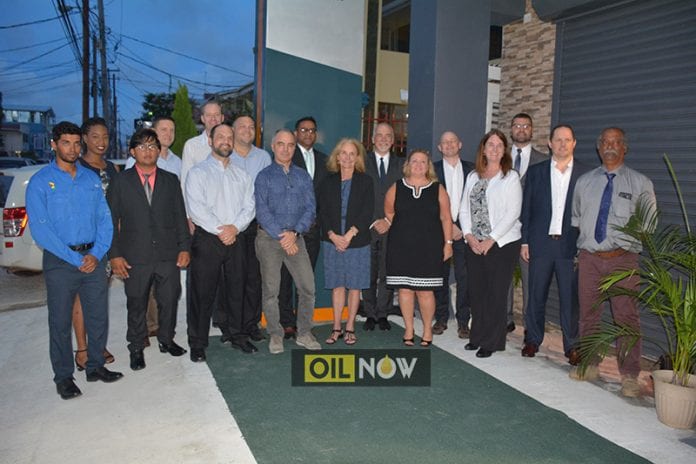 On Tuesday, June 4, 2019, Italian oil and gas industry contractor Saipem celebrated the establishment of its first country office in Guyana.
The office, located in Georgetown, will serve as the headquarters for their local operations. While the company has been active in Guyana for over two years, Chief Operating Officer for Saipem's E&C Offshore Business Division, Stefano Porcari, recognized the significance of the event.
"For us, it is an important moment, it is a step in our journey. It is a step which means that we are here to stay and will work with all of you."
Porcari thanked ExxonMobil Guyana for giving Saipem the opportunity to shape the emerging oil and gas sector of Guyana and emphasized the positive impact the company's presence will have on the nation.
"Saipem has worked for many years in many countries… and in all these countries, we have brought not only our knowhow but also we have built infrastructure; we have developed skills, competencies. We have trained our resources. We have developed a supply chain. So we have done something in this country to grant sustainable value and create residual value for our stakeholders."
Country Manager of Saipem in Guyana, Thuranthiran Nadarajah also shared his excitement.
"I personally see Guyana as a milestone in my career. Why? It's because I can see where Guyana is heading in another 20 years' time and being one of the pioneers of it is exciting. Maybe, the common man won't be able to see it. I could see it. It might take them another one or two years to realize what this impact is going to be so I'm excited about it."
Nadarajah encouraged Saipem's vendors to come to Guyana with the intention of being a partner in the nation's economic growth.
"If you want to do business with us, come to Guyana. That is my first request. Come to Guyana. Second request is: I don't want you to come here and do business. I want you to come here and be the regional hub. I want you to set up a regional hub. Because if every vendor could create a regional hub here what will happen? The internet service will improve. The facilities will improve. More restaurants will come… So I think everyone should take responsibility and move forward."
Local capacity building is a priority for Saipem. The corporation employs 180 Guyanese across various fields and has made it a priority to give young Guyanese the opportunity to enter the oil and gas industry.  One example of a young Guyanese given that opportunity is University of Guyana graduate, Kishan Madhoo. Through Saipem's three-month internship programme, Madhoo was able to gain valuable work experience. This eventually became full employment with the company as a Health, Safety, and Environment Engineer. He recommends that young persons take an active role in seeking employment in the industry regardless of qualifications.
"You have to research; social media is a good place to start and newspapers. Exxon has been great with showcasing vacancies, so just look out for those and talk to people you know in the oil and gas industry. Making those contacts, that's important. Personally, I applied to all of them and I got accepted and I chose Saipem. Just apply, don't be afraid."
Saipem is an international subcontractor and is a leading company in engineering, drilling and construction of major projects in the energy and infrastructure sectors. It is also one of the largest subcontractors in the world to provide engineering, procurement, installation, construction, and commissioning of oil and gas infrastructure for major energy companies, including ExxonMobil.
ExxonMobil Guyana had contracted Saipem for the engineering, procurement, construction and installation of the subsea umbilicals, risers and flow lines for the Liza deep-water project. Internationally, Saipem has over 32,000 employees across 60 nations.