Lindon Swamy's wife is used to missing him.
For more than two decades, Lindon spent months at a time away from home working at sea as a ship's mechanic. He is completely at ease in the engine room of a deep sea vessel. It's the job he does best, and the one he loves most.  As a young man with big dreams, Lindon often pictured himself working at sea as he watched ships pass by from New Amsterdam, Berbice.
In 1992, he got his first job as a seaman. He was employed as an oiler on a 23,000-ton vessel transporting bauxite from Guyana to the United States. It was a dream come true; but as his wife knows only too well, it came at a steep price.
He was doing his dream and his pay was good, but his career as a seaman meant spending long periods away at sea which meant he and his family had to make a heart-rending sacrifice.
Sometimes, he was able to arrange for his wife, Avon Swamy, to spend a month or so with him wherever he was based, but this proved to be impractical and expensive, merely a Band-Aid solution. Good pay softened the impact of long separations from his family, but the incredible support Lindon got from his wife Avon allowed him to persevere for many years.
Recalling the pivotal role his wife played in the family during those years, Lindon said with a laugh, "Thank God for my wife…She is the mother and father…She is the boss for the home…She manages the kids and the money—and me too!"
Lindon was engaged aboard the vessel of an offshore services company for three years and when their contract with the oil company ended, he faced an unknown period of down time. Although this meant he was able to spend quality time in Guyana with his family, it also meant that he had to find another job.
Lindon was confident he would find work soon, particularly with the experience he had from his last job. Then a cousin suggested that he should approach Strategic Recruitment Solutions Inc. (SRSGY); a 100 percent Guyanese-owned employment agency catering to all sectors, particularly oil and gas, engaging and recruiting skilled personnel.
He sent in his application and waited. Before long he got an answer and it was positive.  SRSGY employed Lindon and deployed him as a QMed or Motorman aboard the Sanibel Island – a G-Boats vessel. G-Boats is the Guyana affiliate of US marine transportation service provider Edison Chouest Offshore.
Best of all, he was put on a work schedule with a rotation that required him to go to sea for 28 days and then be off duty for the same amount of time.
Now, after every 28 days of focused work at sea, Lindon returns to shore for 28 days. There, the father of six has ample time to enjoy the remnants of his 17-year-old son's teenage years. Twenty-eight days might seem like a long time to be away on a job, but Lindon is spending way less time away from home than he did for decades. And his family is ecstatic.
According to Lindon, the 28 days he spends working at sea are intense, but he's used to it. He spends most of his time where the heart of the ship beats—in the engine room.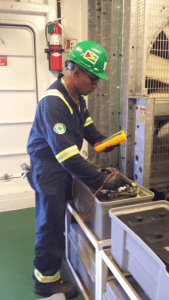 "It's a lot of focusing and concentration going on down there. Noise and sweat and…a lot of communication down and up. And you have to cope with everything and keep yourself focused," he said. "If you want a career as a seaman, you have to forget about home in order to go back home in one piece to put bread on the table. You can't bring problems from home on the boat…you have to be strong," he added.
He underscored the importance of safety at sea and noted that being focused is the key to ensuring a "goal zero" when it comes to injuries. "If you don't focus, you make a lot of mistakes. Where I work in the engine room, that is the heart of the vessel and you can't afford mistakes…" he said, adding, "you try to get a goal zero…You go home back safe, not injured, not a broken leg, your family would be happy and you can continue to provide for them."
Lindon pointed out that everyone on his vessel is acutely safety conscious, so he fully expects to be safe and get home safely. With the relatively short time he spends away from home, his wife is happy. "So now she is very happy and I am happy too…the family is happy…" he said.
Waiting only 28 days works out well for them.
Strategic Recruitment Solutions Inc.
SRSGY has been working assiduously behind the scenes over the last eight months to recruit suitable persons for Guyana's emerging oil and gas industry, and also to build their capacity to excel on the job.
Recently, the company secured a contract with G-Boats, supplying crew members for two of their vessels in positions that include mates, cooks, ordinary sailors, oilers, motormen and able-bodied seamen.
Chief Executive Officer (CEO) of SRSGY, Kerri Gravesande-Bart said, "We believe that if we recruit someone, that person should be fully trained and able to do the job."
She said her agency has been working hard to create a local skills-pool of highly-trained, competent and motivated workers who meet the stringent recruitment requirements of the oil and gas sector.
The CEO has been proactive in reaching out to local institutions and other organisations where she can source skilled persons with competencies in fields that would be useful to the oil and gas industry. In this way, the company is establishing an oil and gas skills pool with Guyana's top talent.
"We believe in capacity building…we believe that if we recruit someone that person is fully trained and able to do the job," she said.