The Cherie Blair Foundation for Women, ExxonMobil Foundation and ActionINVEST Caribbean Incorporated (ACI), on September 14, 2021, launched a partnership to bring vital entrepreneurial skills and support to women across Guyana through the Foundation's 'HerVenture' mobile learning application.
The mobile learning app was developed specifically for women who own micro, small and medium-sized enterprises in low and middle-income countries. With support from ExxonMobil Guyana, the app will be made available free of cost to women all across the country so that they can grow their businesses. It features nine learning tracks on a range of topics, including how to launch a business; accessing finance; expanding market access and e-commerce. The app also generates a personalised learning journey for each entrepreneur based on their individual business needs. It can also be used offline.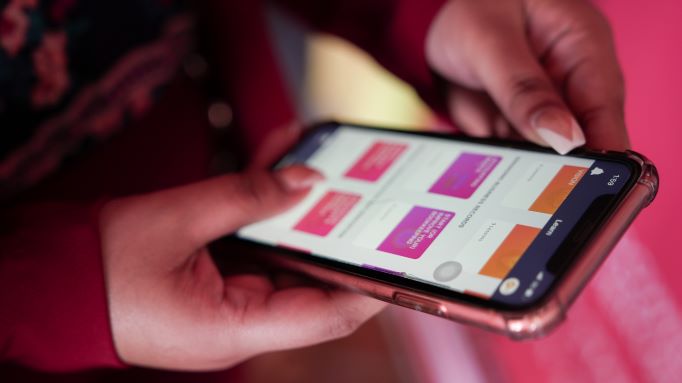 The launch complements the 'Accelerate Her Programme', also sponsored by the ExxonMobil Foundation and managed by the Centre for Local Business Development, which targets women owners, operators and managers from across all sectors, to help them to build their leadership and business skills as entrepreneurs. It targets 35 women in the first tranche.
At a ceremony held at the residence of the British High Commissioner, Minister of Human Services and Social Security, Dr. Vindhya Persaud lauded the partnership as she noted that it represents a meaningful opportunity for women entrepreneurs across the country.
"We are very conscious of the need, not only to empower women in a one-off way but to ensure that that empowerment is sustained and consistent. It is wonderful for women across our country to benefit through these entrepreneur opportunities and importantly, the mechanism to ensure that these activities don't just benefit them but their families and communities as well. This is a tool to ensure our women have financial empowerment," Minister Persaud posited.
Community Relations Manager of ExxonMobil Guyana, Ms. Susan DeAbreu noted that the company is always pleased to throw its support behind initiatives that support the economic empowerment of women, particularly Guyanese women.
"Since 2005, the ExxonMobil Foundation has support programmes that are proven to work in advancing women economically…Through this particular programme, the 'Road to Growth' programme, which aims to foster women's economic empowerment by targeting local entrepreneurs in the growth stages of their businesses, participating women will have the opportunity to  build business skills, increase financial literacy, expand networks and utilise digital learning tools including the app being launched here today," she said.
Ms. Helen McEachern, Chief Executive Officer of the Cherie Blair Foundation for Women said that the organisation is extremely proud of the app it has developed since it targets and empowers women who are in need of support.
"The needs for these kinds of programmes are absolutely enormous. Gender equality across every aspect of life is a fundamental human right and is essential for our societies to survive and thrive. Economic equality for women is far from close unless we change what we do and how we do it. Many women are facing social and legal barriers to establishing businesses. The Cherie Blair Foundation is committed to changing this. We are committed to eliminating the gender gap in entrepreneurship and creating a future where women entrepreneurs can thrive," the CEO said.
She noted that these opportunities would not be possible without the support from the ExxonMobil Foundation, which has been a key and consistent partner of the Cherie Blair Foundation.
"It is an incredible privilege to be working with ActionINVEST and our long-term, extremely committed partner, the ExxonMobil Foundation to launch the HerVenture mobile in Guyana. We are also co-delivering our Road to Growth programme with ActionINVEST through a joint initiative with the Centre for Local Business Development. Both the launch of the HerVenture app and the Road to Growth programme are delivered, thanks to the support of the ExxonMobil Foundation who we have been working with since 2015 to raise opportunities for women entrepreneurs," she said.
Chief Executive Officer of ACI, Ms. Davitri Doerga, in her remarks underscored the importance of partnership and support for small and medium-sized businesses, especially those led by women. She noted that the aim is to reach as many women as possible and to provide them with the guidance they may need.
"Our goal is to provide on-the-ground implementation of the learning mobile app and to provide at least 300 women entrepreneurs of micro and small businesses with the knowledge and skills to successfully grow their businesses. I believe that the HerVenture app will empower thousands of current and aspiring entrepreneurs to learn, earn and contribute more," she said.
Meanwhile, British High Commissioner to Guyana, Ms. Jane Miller also praised the initiative, highlighting that it will go a far way in creating pivoting opportunities for female business owners and aspiring women entrepreneurs across the country.
The event was also supported by First Lady, Ms. Arya Ali and President of ExxonMobil Guyana, Alistair Routledge.