ExxonMobil greenfield investments have been "virtually non-existent" since 2014 says Norway-based Rystad Energy, in a new report published on Tuesday.
The largest International Oil Company (IOC) in the world has a lot riding on the small South American country of Guyana, where Rystad says the Liza Phase 1 development is the oil major's biggest greenfield project since 2015.
Rystad said for projects that have started up since 2014, oil majors have collectively achieved greenfield costs of $13.50 per barrel of oil equivalent. These development costs were in addition to their collective $8.80 per barrel of oil equivalent lifting costs from 2017.
Matthew Fitzsimmons, Vice President at Rystad Energy, said, "It is remarkable that BP, Eni and Shell introduced over $109 billion of new greenfield projects below the industry average greenfield cost and still were able to still achieve industry-leading lifting costs in 2017. BP's $6.0 billion investment in the Khazzan Phase 1 and Makarem projects in Oman highlighted their execution excellence by achieving greenfield costs below $5 per barrel of oil equivalent."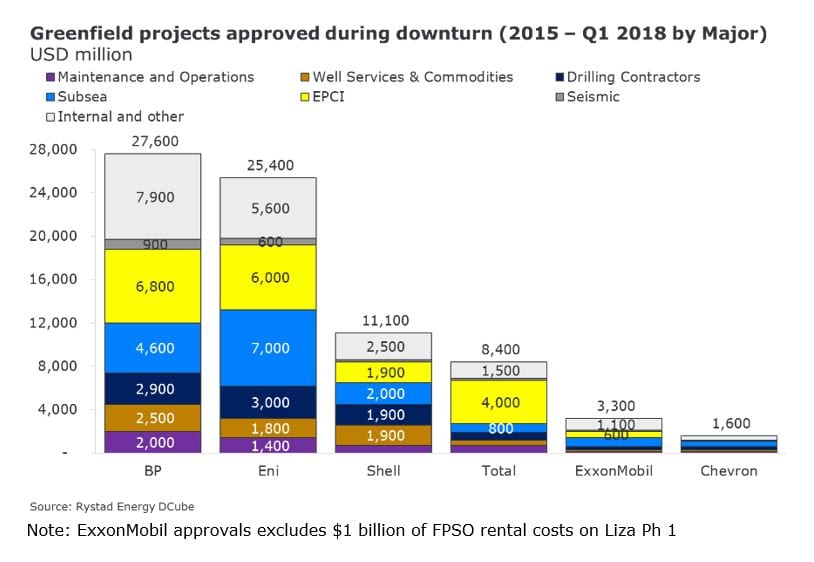 The Rystad report pointed out that conversely, despite starting-up nearly $75 billion worth of project investments, ExxonMobil's greenfield performance on the PNG LNG Phase 1 and lifting cost performance on Kearl Phase 2 have deteriorated their overall marks to trail industry averages (weighted average for majors).
"We've noticed that ExxonMobil's greenfield investments have been virtually non-existent since 2014," Fitzsimmons said. "Their only major greenfield project approval since 2015 was the $4.4 billion Liza Phase 1 FPSO project in Guyana."
However, Rystad said the outlook is not all glum for the world's largest IOC. "We've also noticed that ExxonMobil has improved its greenfield cost performance since 2014 as it gears up to take on the challenge put forth by the company's CEO to double earnings by 2025," Fitzsimmons noted.
The US oil major outlined an aggressive growth strategy in March, which is set to more than double earnings and cash flow from operations by 2025.
Growth plans include steps to increase earnings by more than 100 percent – to $31 billion by 2025 at 2017 prices – from last year's adjusted profit of $15 billion, which excluded the impact of U.S. tax reform and impairments.
Key drivers of growth are in Guyana, where exploration success has added more than 4 billion gross oil equivalent barrels of recoverable resource and plans are in place for development and further exploration. The company estimates that oil production in the South American country could hit 750,000 barrels per day by 2025 from multiple developments in the 6.6 million acres Stabroek Block.
ExxonMobil affiliate, Esso Exploration and Production Guyana Limited, is operator and holds 45 percent interest in the block. Hess Guyana Exploration Ltd. holds 30 percent interest and CNOOC Nexen Petroleum Guyana Limited holds 25 percent interest.