The Government of Guyana intends to pass on direct instructions for local companies to submit their bids for oil contracts net of taxes so that they can have a competitive advantage against foreign suppliers. This is according to Vice President, Dr. Bharrat Jagdeo.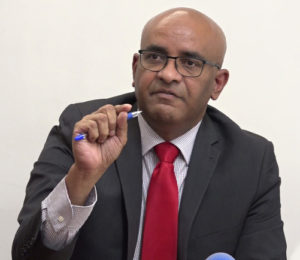 During a press conference on Thursday, the Vice President said it is the administration's intention to have a lot of work done to build the capacity of local companies along with getting them onto the local content register for added benefits. He said the register will get started soon while adding that recruitment for the Local Content Secretariat to manage the process is also underway.
In the meantime, he said the government wants to ensure local companies enjoy the same tax concessions and reliefs granted to subcontractors and affiliate companies of ExxonMobil, Hess Corporation, and CNOOC Group via the Stabroek Block Production Sharing Agreement (PSA).
Dr. Jagdeo said, "…we are going to end this, we are going to accord them, we will give direct instructions that when you bid for any job, you bid on the same basis as any foreign firm… you submit bids net of taxes…Wherever Exxon passes on its fiscal benefits to suppliers, locals must get the same treatment…locals cannot be placed at a competitive disadvantage and we are firm on this, this is going to happen…"
This move by the government comes on the heels of its historic Local Content Legislation which came into effect on December 31, 2021. The legislation, among other protective mechanisms, proposes the creation of a Local Content Register of qualified nationals and companies so as to keep schemers of the system at bay.
The register would be monitored by a Secretariat to be housed in the Ministry of Natural Resources and its members appointed by the Minister. Among the functions of the Secretariat will be for the development and maintenance of Local Content Registers which include Guyanese nationals for employment and Guyanese companies and persons from which goods and services may be procured.
OilNOW previously reported that a certificate would be issued to Guyanese nationals and Guyanese companies supplying goods or providing services to the petroleum sector once they apply within six months of the law being operationalized.