Rene Roger Tissot, an energy and development economist specializing in local content policies and strategies says Guyana should have a plan in place to develop the capabilities of its people before commercial oil production comes on stream. One way in which this can be done, he said, is through the strengthening of the country's technical institutions.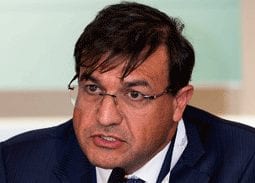 "At Technical institutes, people are trained in areas that are not directly related to the oil and gas sector but in areas that the oil industry might employ so what is important is if you are going to be a welder, you have to be a certified welder so all those areas are areas that the Government should be looking at, more than the quantity of people to hire."
To this end, he underscored that the oil industry prefers quality over quantity. He said such technical skills will be most applicable in the construction, and not the exploration phase of the country's oil and gas development, as he reminded that this phase of development is not labour intensive.
Tissot was speaking during an interview with OilNOW on the sidelines of the recently concluded 27th Energy Conference in San Diego, California. He started his career at the Canadian Energy Research Institute where he specialized in Latin America's energy policy issues, including the role of national oil companies. He then worked for EnCana, a large Canadian oil and gas company in a number of functions such as Business Development and Government Relations.
"My strong advice to the Government is to look at the development of the skills that your people are good at because the companies that are exploring are going to do just that, because when you develop a policy without knowing what are your capabilities then that policy becomes a negotiation in which the companies will have the upper-hand," Tissot told OilNOW.
With this possibility in mind, he added that a policy should be supported by empirical data that points to the capabilities and skill sets of the populace to benefit from opportunities in the oil and gas sector.
He said, "The problem that Guyana and many other countries face is that they pass policies without the evidence to show that they can afford it in terms of capabilities."
Such a posture, he noted, will result in oil companies looking to employ their own people instead of the locals, because it may appear that the locals don't have the capability to effectively function in the sector.
Tissot said it matters not if the company operating in the country wants to do its own employment survey, but it is of integral importance that the Government also assesses its employment population.
He added that, "The Government should do their own survey because…the country does have a different set of objectives from the company. Their objective is about industrialization and economic development. It is about how they can use this opportunity to fulfill this most important goal of economic development."
Guyana is less than two years away from commercial oil production and the country is working to put certain mechanisms in place before that time. This includes development of a local content policy, a draft of which was recently released for public scrutiny.
Authorities have been leaning towards a policy instead of a legislative framework to guide how local content is utilized in the industry. Stakeholders, including groups representing business in the country have said that a more rigid approach is needed to ensure oil companies comply with local content rules.